Varsity Ball - Indestructible Dog Toy
Do you know about the Varsity Ball? If you own a ball loving dog, and let's face it, many of them are really "ball obsessed" right, then you really should find out more about the Varsity Toy Ball right now because it may very well become your new best friend! For sure, it will be your dogs best friend - and your dog will love you for it, hands down!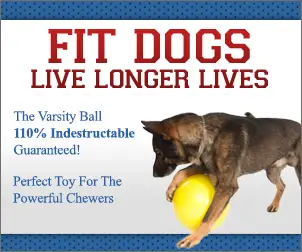 Why would your dog even want one of these dog toys? Well let me tell you right here and now there are several reasons and here are just a few:
• dogs can't destroy the VB, no matter how much they try
• dogs get a unique full-body workout
• perfect for large, athletic, and high-energy dogs
• the VB is ultra-durable and addictive to dogs
• dogs can play with it all by themselves (when supervised)

These Varsity balls are so much fun to play with with your dog but it is also important to point out right here that this is not a toy that you want to leave out with your dog unsupervised for long periods of time. They are designed to be ultra-durable and addictive and even to mimic their own real play companion, so your dog can play with it for extended periods of time all by himself - just make sure that you can take it away as needed to allow the dog a chance to rest.
In fact, enjoy a quick video of my own GSD puppy playing with his own ball just a few months ago. You'll get an idea of just how much dogs love these super addictive and indestructible dog toys.

Check out more videos for this Unbreakable Dog Ball here



So what is it about this Varsity Ball that you would you like to know? Well, first of all it's made in the USA, using a non-toxic high density polyethylene plastic and they are about the size of a basketball. In fact, this dog toy is so durable that even the strongest dogs can't destroy it, guaranteed!
Yes, you read that right - the ball itself is guaranteed. There is a 110% Guarantee that applies to the Large (12") Varsity Toy products. And here is what the manufacturer actually says needs to be done to get a replacement ball IF your dog somehow managed to break the ball.
"If your dog breaks the Varsity Ball within 90 days of placing your order, please send an e-mail to ... we will send you a claim form - fill out the claim form and mail it to us along with all remnants of the broken ball. Once we receive the claim form and confirm that the ball was actually destroyed, we will promptly send you a replacement Varsity Ball and a check for 10% of your original purchase price."

Let me take a second to point out that this Ball is NOT intended to be used as a dog chew toy! Lastly, it is not intended to be used indoors either (and once you get one you'll understand exactly why.
But if you want to buy a long lasting dog toy, this is the one you should get. Heck, they even tested this ball out with lions, tigers and elephants too and they all survived so if the toy can stand that kind of abuse, you really won't have too much to worry about with your dog playing with this ball.
Note: Now if your dog weighs less than 50 pounds it is probably too small to enjoy playing with the Varsity Ball - let it grow large enough to enjoy the toy! Secondly, older dogs, or dogs that have low energy levels probably would be better off with some other kind of toy.
My best advice to you, I got one for my German Shepherd puppy months ago and I have never regretted it. It is his favorite dog toy hands down, and every time I even touch it I have his complete attention. Get one for your own dog today and have fun watching them play with their new favorite toy.


Return from Varsity Ball to Tough Dog Toys


" Being patted is what it is all about." -- Roger Caras