Black Jack's Dog Food is Blue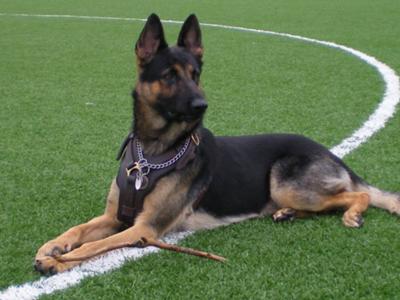 I buy a small bag of Blue which lasts for a month. I cook for my GSD because I believe that fresh meat and chicken is still the best.

I give him just 1 1/2 lb of boiled chicken in the morning and 1 1/2 lb with 1/2 cup of Blue for dinner. It's only Blue that goes well in everything with him.
Love the Royal Canin for German Shepherds!
by Sheila M
(Ridgeway, WI)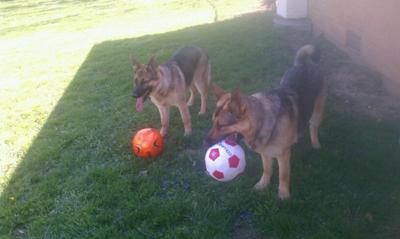 Our girls with their favorite toys
We used to feed our GSDs Nutro. They did well on it, but we still struggled with loose stools - not fun when you're trying to clean up the yard.

We are blessed to have a wonderful friendship with our local pet store owner, and he recommended Royal Canin. We did the research and decided to try, and wow, what a difference. The pet yard is MUCH easier to clean up, and both our girls look sleek and healthy.

It's great when we go to the vet's office, because they all comment on how wonderful their coats, skin and teeth are. The shape of the food helps cut down on them bolting their food, and also helps clean their teeth.

My husband and I often joke that we sound like walking advertisements for the food, but we can't say enough good things about it. I can't see us ever switching, unless one of the girls developed an allergy or something major along those lines.