German Shepherd Puppy Niko, Diagnosed With Mega-esophagus
by Tammy Long
(Plantation, Fl)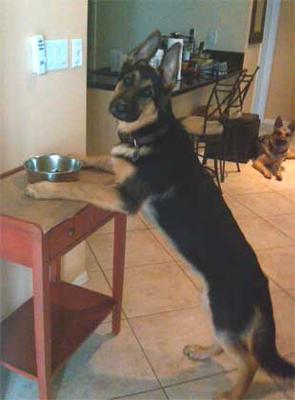 Attached is a picture of 3 puppies in a litter born to my 3 year old GSD female (Shasta) and 2 year old GSD Gunter.

These three pups, which were about a month old at the time, decided to take a nap next to our BBQ grill after eating one of their 1st weaning meals. The two female sable colored pups (Tonka - left, and Kyrie-center) have gone on to fantastic "forever" homes.

Niko, the male pup on the right, was officially diagnosed with Mega-esophagus about 2 weeks after this photo was taken. although we had an idea at two weeks old when he would regurgitate milk after nursing and made a throat gurgle noise. (very scary at the time)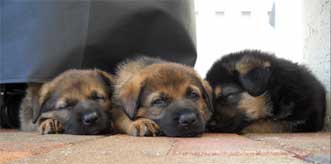 Thanks to a great Yahoo Internet group (http://pets.groups.yahoo.com/group/megaesophagus/), a vet willing to listen and agree to prescribe the medications needed, as I tried some of the suggested management techniques, and a little dedication my part (and the hubby too), Niko is now 7 months old and is 67lbs (and growing). His symptoms are all but gone.
I have also attached a pic of him eating from his table...(not as a photo entry, but as a reference). Niko must eat vertical to use gravity to assist in his digestion,as his esophagus lacked the ability to push food down the esophagus to the stomach.
After eating from the table he stands at the table for about 5 minutes, then has to sit on the couch (butt on the sofa, with his front paws over the back rest) to hold him up vertical for about 15 more minutes.
Being he has been doing this since a VERY young puppy, this is second nature for him. The other GSDs just sit by the couch and wait for his "hold time" to be over, so they can all go outside together.
I never intended on keeping any puppies from the litter, but would not sell or give away a puppy with such an illness. I can say in a strange way though, mega-esophagus turned out to be a blessing in disguise, as he is a sweet and energetic puppy that has changed our life and outlook on many things.