Purina Puppy Chow
by Pansy Lumpkins
(Flatwoods KY, USA)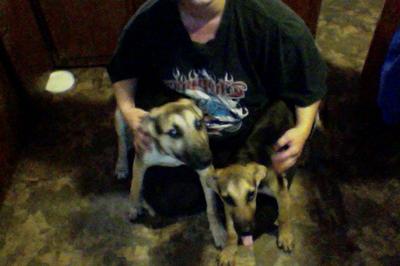 SachMo on left of pic and MaxAMo on right!
I have to say that I'm really liking the purina puppy chow! I got a GSD who was about 11 weeks old. He was tiny, his ribs, back, and hip bones could easily be seen from a distance. His belly was all sunk in and tucked up, all his bones in his legs were very visible, and his coat was dull and dirty. He really looked close to death!


I got him home and dewormed him, and bathed him really well, and started the purina puppy chow. Its been three weeks now and he has quadrupled his size! He went from a very small unhealthy animal, to a beautiful, big, shinny boy!
I went back to the "person" who had my dog (SachMo), and found out that they still had two of his brothers. When I saw his brothers my heart broke, they still looked as bad as or worse than SachMo did when I first got him. I asked if I could have them and at first was turned down, just to get a call later saying that they were keeping one, but I could have the other if I liked!
I jumped into my durango at 11:30p.m. and drove 30 mins to get him! I took two of my deworming pills with me so that I could give it to him (the new GSD pup) as soon as I saw him. It made me so sad that they were keeping one of the pups, knowing that they were not getting the quality care that they needed, but I didn't leave till I dewormed the pup that they were keeping! I told them that I would feel better leaving him there if I at least know that he has been wormed and has a half of a chance! The pups had hook worms!
I've now had MaxAMO (new GSD) for three days, and he has improved so much already! His bones are not visible from a distance anymore, but still are up close. He is feeling better and has more energy, and his coat has more shine now! He is still 4 times smaller than his brother (SachMo), but I'm praying in time that he will catch up to him.
Please know that I still have that other pup on my mind, and still holding out for a chance to get him also! Im going to be watching his progress, and now that I wormed him they have no excuse and if his quality does not improve then I'm going to be forced to get him one way or the other! These dogs are amazing animals and deserve a great home!
Thank you for reading, sorry so long!
Pansy Lumpkins SachMo & MaxAMo's Mommy!