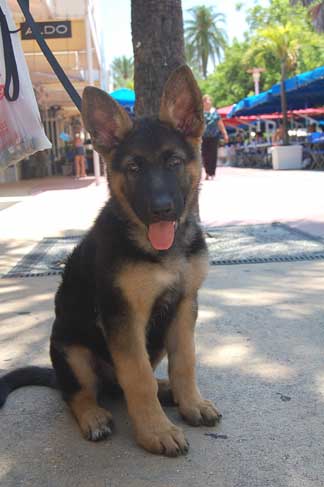 ~~~~~~~~~~~~~~~~~~~~~~~~~~~~~~~~~~~~~~~~~~~~~~

January 2011: Total German Shepherd Newsletter -
German Shepherds Rule!

~~~~~~~~~~~~~~~~~~~~~~~~~~~~~~~~~~~~~~~~~~~~~~

~~~~~~~~~~~~~~~~~~~~~~~~~~~~~~~~~~~~~~~~~~~~~~
Want to see all our new pages? Visit them here anytime:
Total German Shepherd Blog
Our GSD blog page will keep you up to date on the most recent updates, new articles and special announcements for our German Shepherd Dog site.
http://www.total-german- shepherd.com/german-shepherd-blog.html
~~~~~~~~~~~~~~~~~~~~~~~~~~~~~~~~~~~~~~~~~~~~~~
INSIDE THIS MONTH'S UPDATE ISSUE:
New and / or Featured Pages: GSD Training
GSD Training is an important part of owning a German Shepherd Dog or puppy. Read on to learn more ...
https://www.total-german-shepherd.com/GSDtraining.html
German Shepherd FAQ
Do you have questions about the German Shepherd, or would like to learn even more? Here is one page you can read and learn even more answers to many of your GSD questions.....
https://www.total-german-shepherd.com/GSD-FAQ.html
Natural Dog Health Supplements
If you are really serious about increasing the health of your German Shepherd Dog without using harmful medications with tons of side effects, check out the all natural dog health supplements included on this page....
https://www.total-german-shepherd.com/Natural-Dog-Health-Supplements.html
German Shepherd health
It often takes a sharp and observant owner to know whether or not his or her dog is suffering from any type of pain or illness.....
https://www.total-german-shepherd.com/GermanShepherdHealth.html
~~~~~~~~~~~~~~~~~~~~~~~~~~~~~~~~~~~~~~~~~~~~~~
Recommended Dog Products
I recently rescued a new GSD puppy, 4 months old - and he is really clumsy and messy and a sloppy eater and drinker too. I love him to death anyway, but I want to keep my floors as clean and food/water free as possible too.
And then I found the Neater Feeder!
Halleulah!!!!! is about all I can say about it! I love it, my puppy loves it and my dry and food free floors love it.
So I highly recommend it - in fact, we give it 4 paws up!
And if you have a sloppy eater/drinker or need an elevated feeder, I can't recommend this feeder highly enough. Click on the picture below if you want to learn more about it for yourself:
Neater Feeder for Dogs
~~~~~~~~~~~~~~~~~~~~~~~~~~~~~~~~~~~~~~~~~~~~~~
NEW Section - GSD Sharing - Please Enter Now
We are so happy with all the stories everyone has been sharing with us about their own German Shepherd dogs and puppies. We have gotten a lot of new videos and pictures too and many readers have enjoyed reading and commenting on all the new GSD stories.
In fact, you can check them out now in our German Shepherd blog area or by going to the sharing section as found in our left hand navigation bar and clicking on whichever page you're most interested in.
Please enter your own personal story in our Total-German-Shepherd.com Sharing Section, a brand new section for German Shepherd owners to share their own stories about their own GSDs!
Each accepted story gets their very own individual page. Learn more about it here ...
German Shepherd rescue stories here
German shepherd puppy stories here
German Shepherd Rainbow Bridge stories here
~~~~~~~~~~~~~~~~~~~~~~~~~~~~~~~~~~~~~~~~~~~~~~
NEW Section - GSD Contest - Enter Now
Enter your pampered pooch in the Total-German-Shepherd.com GSD Contest, The GSD of the Month Photo Contest, a brand new contest for German Shepherds! Win a prize! Now sponsored by Royal Canin ...
https://www.total-german-shepherd.com/GSD-contest.html
~~~~~~~~~~~~~~~~~~~~~~~~~~~~~~~~~~~~~~~~~~~~~~
Please Visit our German Shepherd Shopping Page
To make it easier for you to shop for German Shepherd related items - we've consolidated many of our shopping related pages in the form of links from one single page. Here you can find handbags, calendars, wallets, collectibles, toys, books, posters and artwork, dog supplies and more.
Find them all here now: https://www.total-german-shepherd.com/GSD-products.html
~~~~~~~~~~~~~~~~~~~~~~~~~~~~~~~~~~~~~~~~~~~~~~
Download your own FREE copy now:
Feel free to download our newest ebook and share it with your friends. If you are getting a new puppy, or thinking about getting one, this ebook : "Choosing puppy names does not have to be that hard" has 1000's of names to choose from.
https://www.total-german-shepherd.com/support-files/gsdpuppynames.pdf
~~~~~~~~~~~~~~~~~~~~~~~~~~~~~~~~~~~~~~~~~~~~~~
Tell a Friend About Us
Enjoying this newsletter? Great! Forward it on to your friends! They can sign up here -
https://www.total-german-shepherd.com/GSD-Newsletter.html
~~~~~~~~~~~~~~~~~~~~~~~~~~~~~~~~~~~~~~~~~~~~~~
ATTENTION: Please visit our NEW Members Only Area - Only Available for the Newsletter Subscribers of Total German Shepherd
Things in here will change periodically, so please visit often to see what may be new. Coupons, free e-books, discounted offers on German Shepherd Only dog related items, gifts for GSD lovers and so much more.
BTW, did I mention it's password protected?
This month's password is: Alsatian (No spaces before or after, and it must match exactly to get in)
Here it is:
https://www.total-german-shepherd.com/member-login.html
Have fun with your reward for being a member of our German Shepherd Dog newsletter.
~~~~~~~~~~~~~~~~~~~~~~~~~~~~~~~~~~~~~~~~~~~~~~
Please visit our newsletter sponsors:
Thanks so much. As always, German Shepherds Rule!
© Copyright 2009, Total German Shepherd.com