Hi everybody,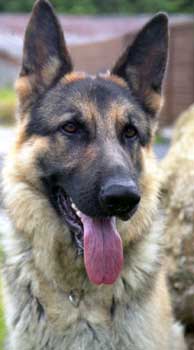 ~~~~~~~~~~~~~~~~~~~~~~~~~~~~~~~~~~~~~~~~~~~~~~

August 2008: Total German Shepherd Newsletter - Want to learn more about the German Shepherd Dog? Read on. Here is the best German Shepherd Dog information available on the web, and all in one place, just for you and your German Shepherd.

~~~~~~~~~~~~~~~~~~~~~~~~~~~~~~~~~~~~~~~~~~~~~~

Is your dog fat?

We know just how many people are overweight. Heck, we hear it on the news everyday, we read about it anywhere and we can see it just about everywhere we are. Let's face it, people are getting fatter. And now we're passing it down to our dogs too!

If you think you're lovable critter is a little on the thick side, just a few simple tricks could be the difference between a long healthy life and unneeded suffering.

A recent survey indicated that about 40% of America's pet population is overweight. Probably, the same results hold true for dogs in other countries as well.

At any rate, I just wanted to give you a heads up on a new ebook I'm finishing up right now covering ways to slim down your fat dog. I hope to have it done in the next few weeks.

Did you know that even just a few extra pounds can create a pet owner's nightmare of painful and costly health problems such as:

Arthritis, Diabetes, Heart Disease, High blood pressure and even cancer?

With the right strategy shrinking your dog down to a healthy size can be a "piece of cake". My ebook will show you exactly how to zap your pet's fat away with many step-by-step tips.

I'll send you an update when it's done .....

~~~~~~~~~~~~~~~~~~~~~~~~~~~~~~~~~~~~~~~~~~~~~~

Just a quick heads up that we've added several pages and articles that you just might be interested in since our last newsletter was published.

INSIDE THIS MONTH'S UPDATE ISSUE:

New and / or Featured Pages:

German Shepherd training

GSD training /German Shepherd training can begin with a young puppy and continue through adulthood ......

https://www.total-german-shepherd.com/GSDtraining.html

Backpacks for your German Shepherd

Backpacks for your dog are truly invaluable in many ways. Read on to learn why. ......

https://www.total-german-shepherd.com/backpacksforyourdog.html

German Shepherd Posters - GSD Posters

Are you looking for any kind of German Shepherd Posters, Prints, Art Prints or Photos? If you are, then look no further. We've grouped the best of the best all together right here for you for your convenience. .....

https://www.total-german-shepherd.com/GermanShepherdposters.html

Itchy German Shepherd Issues?

Do you have an itchy German Shepherd? Here is one tip to help you help your GSD deal with this problem. .....

https://www.total-german-shepherd.com/itchyGermanShepherd.html

My Top 8 Tips for Dog Owners

Here are my top 8 tips for dog owners everywhere. Read on for more detailed information. .....

https://www.total-german-shepherd.com/mytop8tips.html

German Shepherd Puppy Information

Read all about the German Shepherd puppy in our complete information guide. .....

https://www.total-german-shepherd.com/germanshepherdpuppy.html

~~~~~~~~~~~~~~~~~~~~~~~~~~~~~~~~~~~~~~~~~~~~~~

Protect your pet from fleas & ticks. Save up to 50% when you buy the best flea & tick products at PetCareRx.
~~~~~~~~~~~~~~~~~~~~~~~~~~~~~~~~~~~~~~~~~~~~~~
ATTENTION: Please visit our NEW Members Only Area - Only Available for the Newsletter Subscribers of Total German Shepherd
Just completed, please visit our new Members Only Area - full of exclusive offers only available to our newsletter subscribers!
Things in here will change periodically, so please visit often to see what may be new. Coupons, free e-books, discounted offers on German Shepherd Only dog related items, gifts for GSD lovers and so much more.
BTW, did I mention it's password protected? You'll need the password to get in and it will change from time to time, but it will always be posted in our newsletter in this area for easy access, so please look here for the most current password.
This month's password is: GSDpuppy (No spaces before or after, and it must match exactly to get in)
Here it is:
https://www.total-german-shepherd.com/member-login.html
Have fun with your reward for being a member of our German Shepherd Dog newsletter.
Now, on with more GSD information ....
~~~~~~~~~~~~~~~~~~~~~~~~~~~~~~~~~~~~~~~~~~~~~~
Please Visit our New German Shepherd Dog Items Pages
Help support our site by making a purchase from us if you are in the market for German Shepherd related items. We have a wide range of products from the finest of dog collectibles to things you use everyday, like regular checks, and everything in between. Thanks for browsing.
1) Our German Shepherd Hand Bag Page
This German Shepherd purse is crafted of the highest quality materials, featuring a large image of the German Shepherd accented by real leather trim and handles. Handsome metal rings and feet add fashion flair and durability while the zipper top and front pocket open to lined compartments that hold all your belongings.
https://www.total-german-shepherd.com/GermanShepherdbag.html
2) German Shepherd Collectibles
Any of these items would be wonderful gifts for any German Shepherd lover or owner. Here you can select from puzzles, frames, tote bags, doormats, throws and much more.
https://www.total-german-shepherd.com/germanshepherdcollectibles.html
3) Our New Ebay Dog Store Page
We have decided to add new and exciting ebay German Shepherd auction items to our site. Now you can browse through the menu of items presented here to find the perfect GSD product you are looking for - then, just click on the item to bid right away! This store is continuously changing so visit often. Not an ebay member? No problem, you can join here as well if you're interested.
https://www.total-german-shepherd.com/GSDsonebay.html
4) German Shepherd Dog Collectibles:
Have fun browsing and shopping among all these GSD collectibles and dog related items: plates, clocks, figurines, toys, fine jewelry and much more. The GSD Collectibles on this page may change from time to time so feel free to browse all you like - if you see something you like, order quickly since many of these items are seasonal only and only offered for a limited time.
https://www.total-german-shepherd.com/gsd-collectibles.html
5) NEW - German Shepherd Breed Checks and Checkbooks:
Order your own personal German Shepherd checks designed exclusively by dog artist, Linda Picken. These four German Shepherd dog check portraits are so true-to-life, you'll want to give each one a belly rub!
https://www.total-german-shepherd.com/GermanShepherdChecks.html
6) New 2008 German Shepherd Calendars:
Do you need a gift for the German Shepherd lover in your life? German Shepherd Dog calendars are always a cherished and desired year-long gift.
See many of our GSD calendars here:
https://www.total-german-shepherd.com/GSDcalendars.html
7) NEW - German Shepherd watches:
These German Shepherd watches are among the nicest I've seen around - in fact I own a GSD watch myself and love it. Need another dog breed on a watch. That's possible too. Many breeds to choose from.
See many of our GSD watches here:
https://www.total-german-shepherd.com/German-Shepherd-watches.html
~~~~~~~~~~~~~~~~~~~~~~~~~~~~~~~~~~~~~~~~~~~~~~
~~~~~~~~~~~~~~~~~~~~~~~~~~~~~~~~~~~~~~~~~~~~~~
Need More Info? Visit our GSD FAQ page anytime:
Great information for the novice owner and all other dog lovers as well. Find the answers to many of the most common questions that we are frequently asked about our German Shepherd Dogs right here.
https://www.total-german-shepherd.com/GSD-FAQ.html
~~~~~~~~~~~~~~~~~~~~~~~~~~~~~~~~~~~~~~~~~~~~~~
GSD Rescue - German Shepherd Rescue
Please visit our new section dedicated to: German Shepherd Dog Rescues: Providing Homeless German Shepherds a Second Chance. Know of a GSD Rescue that needs to be promoted? Let us know that as well.
Do you use Purina brand foods? If you save your weight circles and send them to us we can redeem them for food certificates to give to these organizations. Read more here .....
https://www.total-german-shepherd.com/German-Shepherd-rescue.html
or
https://www.total-german-shepherd.com/purinaweightcircles.html
~~~~~~~~~~~~~~~~~~~~~~~~~~~~~~~~~~~~~~~~~~~~~~
Want to see all our new pages? Visit them here anytime:
Total German Shepherd Blog
Our GSD blog page will keep you up to date on the most recent updates, new articles and special announcements for our German Shepherd Dog site.
Want to subscribe to our RSS feeds? Simply right click the orange RSS/XML button (right under the blue navigation buttons on the left hand side of the page), choose "copy shortcut" and paste it into your RSS reader. You're set to go!
https://www.total-german-shepherd.com/german-shepherd-blog.html
~~~~~~~~~~~~~~~~~~~~~~~~~~~~~~~~~~~~~~~~~~~~~~
Newly added, download your own FREE copy now:
Feel free to download our newest ebook and share it with your friends. If you are getting a new puppy, or thinking about getting one, this ebook : "Choosing puppy names does not have to be that hard" has 1000's of names to choose from. Get yours here .....
https://www.total-german-shepherd.com/support-files/gsdpuppynames.pdf
~~~~~~~~~~~~~~~~~~~~~~~~~~~~~~~~~~~~~~~~~~~~~~
~~~~~~~~~~~~~~~~~~~~~~~~~~~~~~~~~~~~~~~~~~~~~~
Tell a Friend About Us
Enjoying this newsletter? Great! Forward it on to your friends! They can sign up here -
https://www.total-german-shepherd.com/GSD-Newsletter.html
~~~~~~~~~~~~~~~~~~~~~~~~~~~~~~~~~~~~~~~~~~~~~~
Our GSD Wish List
Total German Shepherd is now collecting Purina dog food weight circle donations to help out various GSD rescue organizations throughout the US and abroad.
Everyone who uses Purina Pro Plan or Purina One or any other Purina dog foods should carefully save the weight circles from their bags.
Not sure what we're talking about? There are some Purina weight circles (photo examples) on our site at:
https://www.total-german-shepherd.com/purinaweightcircles.html
You can send your weight circle donations to the address below:
Weight Circle Donations:
Total German Shepherd Weight Circles,

333 Old Antioch Church Rd.,

Carrollton, GA 30117
Total German Shepherd will collect and redeem the weight circles and donate the accumulated Purina "checks" to various GSD Rescues throughout the country which can be redeemed for various rewards, including checks for veterinary services and for food.
Please help us to help all the valuable GSD rescue organizations in their effort to save, give veterinary treatment, behavior and training help and eventual rehoming of each and every dog in their program. With your help in the saving of these tiny paper circles, we can all help so many less fortunate German Shepherds.
~~~~~~~~~~~~~~~~~~~~~~~~~~~~~~~~~~~~~~~~~~~~~~
Help! We need your GSD Photos
Total GSD is looking for more pictures of your beautiful German Shepherds to include on our website. We're looking for clear and colorful, non-copyrighted personal photos of your German Shepherds only, in various settings: while at play, work or wherever. The best photos showing the most character will be chosen.
For more info, contact us at our contact form on our website at any time, or you can send them to us directly at: "gsdphotos (AT) rock (DOT) com" .
~~~~~~~~~~~~~~~~~~~~~~~~~~~~~~~~~~~~~~~~~~~~~~
Let us know what else you'd like to see in our newsletter and on our website as well. We'll do our best to add it.
If you have any question or comments about anything on our website, new ideas for content or things you'd like to see appear, please let us know - we'd enjoy hearing from you.
Visit this page for more info to contact us:
https://www.total-german-shepherd.com/contactus.html
Thanks so much. As always, German Shepherds Rule!
~~~~~~~~~~~~~~~~~~~~~~~~~~~~~~~~~~~~~~~~~~~~~~
Please visit our newsletter sponsors:
Need information on purebred dogs? Check us out:
© Copyright 2008, Total German Shepherd.com