Happy Thanksgiving Holidays Everybody,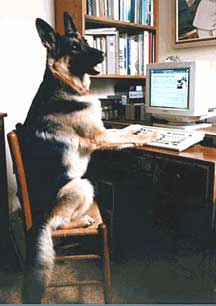 ~~~~~~~~~~~~~~~~~~~~~~~~~~~~~~~~~~~~~~~~~~~~~~

Cool Gift Suggestions for that hard-to-please GSD dog lover!

Happy Holidays Everyone! Whether it's a unique present for that hard-to-please person, or a gift for a special someone these cool GSD gifts are sure to please. Iíve worked my paws off over the past few days, updating my own personal wish list with all the latest interesting dog related gifts.

After a lot of thought, I decided to share my list with you just in case you see something you'd like to get for yourself or for that dog loving friend or family member in your life. So, without further ado, I give you my semi-official and almost-complete GSD gifts wish list - which could be good for just about any olí dog lover anywhere ....

~~~~~~~~~~~~~~~~~~~~~~~~~~~~~~~~~~~~~~~~~~~~~~

Give the gift of time
Perfect for the little girl in your family
Perfect for the collector
~~~~~~~~~~~~~~~~~~~~~~~~~~~~~~~~~~~~~~~~~~~~~~
Please Visit Our Other New German Shepherd Dog Items
(Just in time for the holiday season!):
Help support our site by making a purchase from us if you are in the market for German Shepherd related items. They make great gifts! We have a wide range of products from the finest of dog collectibles to things you use everyday, like regular checks, and everything in between. Thanks for browsing.
1) Fine German Shepherd Collectibles
Any of these items would be wonderful gifts for any German Shepherd lover or owner. And with Christmas coming up really soon, these German Shepherd collectibles would make the best gifts possible. Here you can select from puzzles, frames, tote bags, doormats, throws and much more.
https://www.total-german-shepherd.com/germanshepherdcollectibles.html
2) Our New German Shepherd Dog Signs Page
Each of our metal signs are handmade, one at a time. These metal dog signs are great for outdoor use in any weather conditions (and for indoor use as well) and they are very sturdy and last a really long time too!
https://www.total-german-shepherd.com/GSDsigns.html
3) Our New Ebay Dog Store Page
We have decided to add new and exciting ebay German Shepherd auction items to our site. Now you can browse through the menu of items presented here to find the perfect GSD product you are looking for - then, just click on the item to bid right away! This store is continuously changing so visit often.
https://www.total-german-shepherd.com/GSDsonebay.html
4) Our New German Shepherd Hand Bag Page
This German Shepherd purse is crafted of the highest quality materials, featuring a large image of the German Shepherd accented by real leather trim and handles. Handsome metal rings and feet add fashion flair and durability while the zipper top and front pocket open to lined compartments that hold all your belongings.
https://www.total-german-shepherd.com/GermanShepherdbag.html
5) German Shepherd Dog Collectibles:
Have fun browsing and shopping among all these GSD collectibles and dog related items: plates, clocks, figurines, toys, fine jewelry and much more. The GSD Collectibles on this page may change from time to time so feel free to browse all you like - if you see something you like, order quickly since many of these items are seasonal only and only offered for a limited time.
https://www.total-german-shepherd.com/gsd-collectibles.html
6) New 2008 German Shepherd Calendars:
The holiday season is right around the corner. Do you need a gift for the German Shepherd lover in your life? German Shepherd Dog calendars are always a cherished and desired year-long gift.
See many of our GSD calendars here:
https://www.total-german-shepherd.com/GSDcalendars.html
~~~~~~~~~~~~~~~~~~~~~~~~~~~~~~~~~~~~~~~~~~~~~~
I hope these gift ideas are helpful to you. If you see anything you like just click on the link and you should be able to order right there on the spot. Quick and painless shopping, especially with Christmas holidays so close.
If you have any questions or comments about anything on our website, new ideas for content or things you'd like to see appear, please let us know - we'd enjoy hearing from you. Happiest of holidays!
Visit this page for more info to contact us:
https://www.total-german-shepherd.com/contactus.html
Thanks so much. As always, German Shepherds Rule!
~~~~~~~~~~~~~~~~~~~~~~~~~~~~~~~~~~~~~~~~~~~~~~
Please visit our newsletter sponsors:
Need information on purebred dogs? Check us out:
© Copyright 2007, Total German Shepherd.com