Hi everybody,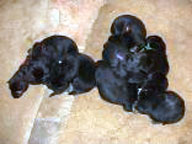 ~~~~~~~~~~~~~~~~~~~~~~~~~~~~~~~~~~~~~~~~~~~~~~~~~~~~~~~~~~~~ Total GSD Newsletter - Want to learn more about the German Shepherd? December 2006 The best German Shepherd Dog information available here, and all in one place. ~~~~~~~~~~~~~~~~~~~~~~~~~~~~~~~~~~~~~~~~~~~~~~~~~~~~~~~~~~~~

INSIDE THIS MONTH'S ISSUE:

Health Issues:

Featured Health Page:

Canine Demodetic Mange in the German Shepherd

If you happen to suspect that your dog has canine demodectic mange, contact your veterinarian immediately. Treatments are available making this a very manageable condition ......

Read more about Canine Demodetic Mange here:

https://www.total-german-shepherd.com/CanineDemodeticMange.html

~~~~~~~~~~~~~~~~~~~~~~~~~~~~~~~~~~~~~~~~~~~~~~

German Shepherd Puppy Issues:

Featured Puppy Page:

An Illustrated Guide to the cycle of GSD Development

GSD development begins at birth .......

Read more about German Shepherd puppy development here:

https://www.total-german-shepherd.com/GSD-development.html

~~~~~~~~~~~~~~~~~~~~~~~~~~~~~~~~~~~~~~~~~~~~~~

ATTENTION: Please visit our NEW Members Only Area - Only Available for the Newsletter Subscribers of Total German Shepherd

Just completed, please visit our new Members Only Area - full of exclusive offers only available to our newsletter subscribers!

Things in here will change periodically, so please visit often to see what may be new. Coupons, discounted offers on German Shepherd Only dog related items, gifts for GSD lovers and so much more..

BTW, did I mention it's password protected? You'll need the password to get in and it will change from time to time, but it will always be posted in our newsletter in this area for easy access, so please look here for the most current password.

This month's password is: totalGSD (No spaces before or after, and it must match exactly to get in)

Hereit is:

https://www.total-german-shepherd.com/membersonly.html

Have fun with your reward for being a member of our German Shepherd Dog newsletter. BTW, here's an example of what you might find in the Members Only Area ....
or
Pet Shop Collectibles - Dogs, Cats and More!
Now, on with more GSD information ....
~~~~~~~~~~~~~~~~~~~~~~~~~~~~~~~~~~~~~~~~~~~~~~
Please Visit our 2 New Secure and Safe Dog Gift Stores
(Just in time for Christmas):
1) Our New Dog Supplies Store Page
Looking for dog supplies or other dog items for the home? Dog Sports Equipment? Dog Grooming Products? Dog Health Supplies? Dog Items for the car? You'll easily find all of that, and more, here. Just browse around at your leisure.
https://www.total-german-shepherd.com/dogsupplies.html
2) Our New Ebay Dog Store Page
We have decided to add new and exciting ebay German Shepherd auction items to our site. Now you can browse through the menu of items presented here to find the perfect GSD product you are looking for - then, just click on the item to bid right away! This store is continuously changing so visit often.
https://www.total-german-shepherd.com/GSDsonebay.html
~~~~~~~~~~~~~~~~~~~~~~~~~~~~~~~~~~~~~~~~~~~~~~
New 2007 German Shepherd Calendars:
The holiday season is right around the corner. Do you need a gift for the German Shepherd lover in your life? German Shepherd Dog calendars are always a cherished and desired year-long gift.
See many of our GSD calendars here:
https://www.total-german-shepherd.com/GSDcalendars.html
~~~~~~~~~~~~~~~~~~~~~~~~~~~~~~~~~~~~~~~~~~~~~~
Newly added pages to our site that you might want to check out are:
Pet Hotline Information
Here is a listing of several pet hotline information numbers which you may find helpful ....
https://www.total-german-shepherd.com/Pet-Hotline-Information.html
"Hot spots" - what are they?
These painful sores can happen in just a matter of hours with no warning of any kind. Any dog can develop hot spots ....
https://www.total-german-shepherd.com/hotspots.html
~~~~~~~~~~~~~~~~~~~~~~~~~~~~~~~~~~~~~~~~~~~~~~
Want to see all our new pages? Visit here:
Total German Shepherd Blog
This GSD blog page will keep you up on the most recent updates, new articles and special announcements for our German Shepherd Dog site.
https://www.total-german-shepherd.com/german-shepherd-blog.html
~~~~~~~~~~~~~~~~~~~~~~~~~~~~~~~~~~~~~~~~~~~~~~
Visit our GSD FAQ page:
Great information for the novice owner and all other dog lovers as well. Find the answers to many of the most common questions that we are frequently asked about our German Shepherd Dogs right here.
https://www.total-german-shepherd.com/GSD-FAQ.html
~~~~~~~~~~~~~~~~~~~~~~~~~~~~~~~~~~~~~~~~~~~~~~
Tell a Friend About Us
Enjoying this newsletter? Great! Forward it on to your friends! They can sign up here -
https://www.total-german-shepherd.com/GSD-Newsletter.html
~~~~~~~~~~~~~~~~~~~~~~~~~~~~~~~~~~~~~~~~~~~~~~
Our GSD Wish List
Total German Shepherd is now collecting Purina dog food weight circle donations to help out various GSD rescue organizations throughout the US and abroad.
Everyone who uses Purina Pro Plan or Purina One or any other Purina dog foods should carefully save the weight circles from their bags.
Not sure what we're talking about? There are some Purina weight circles (photo examples) on our site at:
https://www.total-german-shepherd.com/purinaweightcircles.html
You can send your weight circle donations to the address below:
Weight Circle Donations: Total German Shepherd Weight Circles,
929 Maple Street,
Carrollton, GA 30117
Total German Shepherd will collect and redeem the weight circles and donate the accumulated Purina "checks" to various GSD Rescues throughout the country which can be redeemed for various rewards, including checks for veterinary services and for food.
Please help us to help all the valuable GSD rescue organizations in their effort to save, give veterinary treatment, behavior and training help and eventual rehoming of each and every dog in their program. With your help in the saving of these tiny paper circles, we can all help so many less fortunate German Shepherds.
~~~~~~~~~~~~~~~~~~~~~~~~~~~~~~~~~~~~~~~~~~~~~~
Enter our GSD Photo contest
Total GSD is looking for more pictures of your beautiful German Shepherds to include on our website. Photo credit will be given to all photos chosen. All we ask is that you send in clear and colorful, non-copyrighted personal photos of your German Shepherds only, in various settings: while at play, work or wherever. The best photos showing the most character will be chosen. For more info, contact us at our contact form on our website at any time. And good luck to everyone.
~~~~~~~~~~~~~~~~~~~~~~~~~~~~~~~~~~~~~~~~~~~~~~
Let us know what else you'd like to see in our newsletter and on our website as well. We'll do our best to add it.
If you have any question or comments about anything on our website, new ideas for content or things you'd like to see appear, please let us know - we'd enjoy hearing from you.
Visit this page for more info to contact us:
https://www.total-german-shepherd.com/contactus.html
Thanks so much. German Shepherds Rule!
~~~~~~~~~~~~~~~~~~~~~~~~~~~~~~~~~~~~~~~~~~~~~~
© Copyright 2006, Total German Shepherd.com