German Shepherd Bag -
German Shepherd Handbag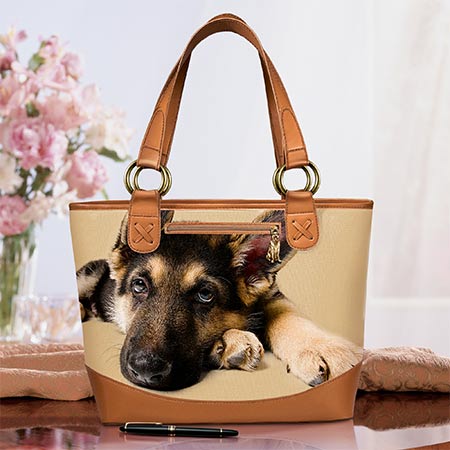 Ardleigh Elliott dog-themed tote


Looking for a German Shepherd bag - make this unique dog lover gift a part of your own collection right now. This Ardleigh Elliott exclusive lets you take your beloved pup wherever you go!
This German Shepherd handbag is crafted of the highest quality materials, featuring a large image of the German Shepherd accented by real leather trim and handles. Handsome metal rings and feet add fashion flair and durability while the zipper top and front pocket open to lined compartments that hold all your belongings.
This beautiful purse comes complete with a breed-specific sculpted metal dog charm on the front zipper to add a delightful tribute to your beloved breed of choice, the German Shepherd Dog.
(If you're looking for the perfect gift for any female dog lover, then this is definitely something you'll want to consider!)
This Ardleigh Elliott
German Shepherd Purse features:
* An adorable image of your favorite four-legged friend, the German Shepherd
* The ability to choose your favorite breed from a wide selection: from the German Shepherd, Yorkie, Dachshund, Pug, Shih Tzu and many more!
* Beautiful craftsmanship using only the finest materials - this German Shepherd bag features a large image on the front, accented by real leather trim and handles
* A breed-specific sculpted metal dog "charm" on the front zipper for a delightful tribute to your dog
* A zipper top and front pocket that open to lined compartments that can easily hold all your belongings
* Handsome metal rings and 4 metal feet underneath the tote bag add fashion flair and durability
* Measures 11" H x 16" W; 27.9 cm H x 40.6 cm W (not including straps)
* A Certificate of Authenticity

To Order Yours Now, Simply Click
on the Square Handbag Photo Below
Price: $79.98 US, s&s $9.99 US
---
Return from German Shepherd bag to GSD Calendars


"If you pick up a starving dog and make him prosperous, he will not bite you; that is the principal difference between a dog and a man." - Mark Twain