German Shepherd Names

Looking for German Shepherd Names - then you're in the right place! And when you're looking for names for our dog breed, specifically, GSD names, who would give you better choices than us?
After all, German shepherds are our life! So, with that said, let's get started. We have names fit for any German Shepherd Dog or puppy, male or female.
In fact, we even have Unisex Dog Names that would be fine for either a girl or a boy. Basically, a name to fit your preference but not depending on the sex of the dog.
How about: Rin Tin Tin? Buddy? Strongheart? Elsa? Luger? Greta? Ruger? Max? Blondie? Alpha? Lucky? Foster? Grainger? Riley, Bailey or Emma? Anything ringing a bell for you yet? Tara? Ripley? Wolfie? No? Then keep on reading. Hmmmmm...
Now some people may want German names (since these are a German dog breed after all), some may be looking for more of an inspiration - you know, the people who will know the name when they see it or hear it. And other people may not have a clue what kind of German Shepherd Names there are even available.
Basically it's all up to you in the end as to what you name your own GSD. But we do know one things for sure, that you do want to make the name choice one that you are happy with and one that will "fit" your German Shepherd Dog as well.
So have fun and good luck searching from the available dog and puppy names that we have gathered here. And if worse comes to worst, then you can always search for other kinds of dog or puppy names using the search feature below.
Male German Shepherd Dog Names
Female German Shepherd Dog Names
Unisex German Shepherd Dog Names
More German Shepherd Puppy Name Info
Maybe you're looking for unique dog names? Celebrity dog names? Funny dog names? Just type whatever you're looking for into the Search Bar above for immediate dog name help. Have a look below to see favorite dog names that other users have submitted.

---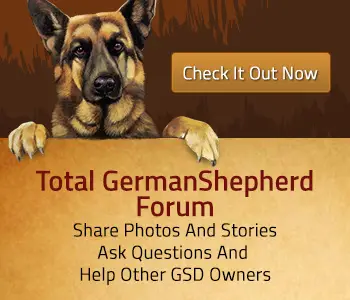 Tell us all about your favorite dog names!
Do you have a great story about your Favorite dog names? What is it? Is it one in particular or is it kind of a group of names that you tend to be drawn to? What makes you like it so much? Share it right here!
What Other GSD Lovers Have Said
Click below to see contributions from other visitors to this page...

Why I named my GSD Chevy

My neighbor has a black Lab, named Ford and we would hear him calling for Ford. He also owns a Ford truck. We own Chevy vehicles. So I thought to myself …
Spanish Dog Names for Our German Shepherds

We found our GSD in Mexico with an injured foot. She was nearly starved to death and barely over 40 pounds. We nursed her back to health but were unable …
Good GSD names Not rated yet
A good female german shepherd name is Zasha from the german shepherd in the book Saving Zasha. A good name for a male german shepherd would be Rocky, it …
Sign up for promotions, news, discounts, and the chance to win prizes for you and your German Shepherd