Finding Perfect Puppy Names for Your German Shepherd Dog

Finding the perfect puppy names for your new German Shepherd puppy can be a chore - and potentially quite confusing too. Choosing a name for your new German shepherd puppy from the thousands of available names is just one of the first major decisions you will have to make when you bring your new GSD puppy home.
To try and make your new German Shepherd name name decision as easy as possible, we have compiled a list of female dog names, male dog names and names that would work for either sex (unisex) for you to look through below.
Once you've chosen a new name, try it out for a day or so. See if it grows on you. You'll know really soon whether it's a keeper or not. If not, try something else. There are always many more puppy names to explore and try out.
Be sure you're choosing not only a name you can live with, but one you'll love and be happy with for years to come. Your new German Shepherd puppy will have to live with whatever name you choose for their entire life, so please don't take this decision lightly - this is a very important choice.
By following the simple steps outlined below, you'll discover the key to finding the perfect German Shepherd name can be relatively painless and easy.
Dogs understand short word commands. Easy names with two or fewer syllables work well but be sure that your puppy's name doesn't sound like any commands. "Stacy" and "stay" is a bit too close for comfort. Such a name will only cause confusion later on.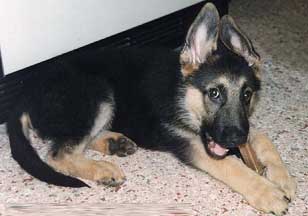 There are thousands upon thousands of potential names for your new German Shepherd puppy. Make your entire family, kids included, a part of the decision making process. If you're bringing home an older dog instead of a puppy, ideally, stick with the name it already owns if possible. If you can't stand it because "Buster" was the first boy who broke your heart in high school why not change it to "Foster" or "Mister"?
Very important, don't forget to reward your puppy or dog when they respond to their new name. The more treats, love and hugs they receive now, the sooner they'll come running when you call later.Now that you have a few tips in mind for choosing a great puppy name, and know how to choose a great name for your dog, what should you choose? For some people, picking out a dog name is really very easy.Other people, however, need a lot more assistance in this area. Have fun researching the dog and puppy names below as potential candidates for your new puppy!Here are a few things to keep in mind and get those creative juices flowing when searching for the best possible name for your new German Shepherd puppy, in no particular order:
• Personality. Your new dogs personality will really shine through once you get him home and can give you a few days. These traits can inspire a lot of new name ideas.• • Appearance. The pups color, size, and personal style can also inspire a whole other variety of name choices.
• Celebrity dog names of your favorite movie or TV character.
• TV dogs.
• Movie dogs. "Rin Tin Tin" and "Strongheart" come to mind if you want to honor a famous GSD.
• Comic book dogs.
• German dog names. For starters, try "Elsa" or "Luger."
• Family and friend dog names.
• Sports teams and player names. 
• Names can be found anywhere: In your favorite book, a part of your favorite hobby, etc.
---
If you are looking for male German Shepherd Dog names, look here.

If you are looking for female German Shepherd Dog names, then look here.

If you are looking for additional German Shepherd Dog names that could work for a boy or a girl, then look here.

Good luck finding the perfect name for your new puppy. The choices to choose from are endless - let your imagination help you. However, following these simple tips and using some imagination, you will soon find the perfect German Shepherd puppy name!
Return from puppy names to puppy information 


If there are no dogs in Heaven, then when I die I want to go where they went." -- Unknown
Sign up for promotions, news, discounts, and the chance to win prizes for you and your German Shepherd