German Shepherd Articles
Looking for new info and all sorts of German Shepherd articles? Then welcome to the Total-German-Shepherd.com GSD Articles library - filled with loads of tips on the German Shepherd Dog.
First of all, what are you looking for? What exactly do you need help with concerning your German Shepherd. Here you will find links to various German Shepherd specific articles grouped by subject. So if you need something specifically health related you can go there quickly. Or if you need training help now you can find it quickly too.
We'll even cover various aspects of German Shepherd Dog ownership. And there are numerous other articles that can be found easily by looking through the left hand side navigation bars too.

After all, that is my main focus here, to help you better understand, raise, and live with your own German Shepherd. Just keep in mind that these GSD articles will be updated on a fairly regular basis so please check back often to see what's new here. Please review the GSD articles listed here for your reference and as a resource to learn even more about your own German Shepherd.
---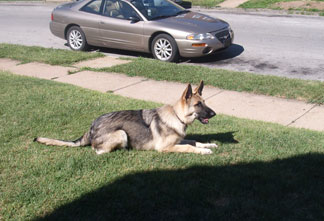 Please remember to use your own judgment whenever dealing with any matters concerning your German shepherds health, behavior or training. Never substitute any materials found within these articles for regular veterinarian visits or dog training classes.
As always, contact a veterinarian first with any type of health related questions concerning your dogs or a local trainer for any behavior issues. It is always best to have someone you can speak with in person whenever you have an immediate issue with your own German Shepherd.
If you would like to, you can also subscribe to our RSS feed via Yahoo, MSN or Google and be automatically notified of any new articles or changes to the site that we make. To join our RSS feed, simply select from the choices located at the very bottom of the navigation bar on the left hand side of this page.
---
Read German Shepherd Health Articles

Read a Few German Shepherd Training Articles
---
Return from German Shepherd Articles to GSD FAQ
"The biggest dog has been a pup." - Joaquin Miller, US poet
Sign up for promotions, news, discounts, and the chance to win prizes for you and your German Shepherd