German Shepherd Training Articles
Here are just a few German Shepherd Training Articles to get you started if you're thinking of beginning training with your own GSD - and you really should to have a completely happy dog. Feel free to read as many of these dog training articles as you'd like.
You own one of the greatest canine athletes in the world and training is an important part of owning your own German Shepherd. These dogs were created to work and they love to do so - they are versatile, athletic, courageous and mentally sound and can easily excel in any activity in which they participate.
Remember to first make sure that your dog is physically fit with your veterinarian first before beginning any strenuous dog training regime. Once you get a clean bill of health from your vet you can start training your German Shepherd. And if you are the kind of person who wants to do-it-yourself, I'll list some of the best German Shepherd training methods I've come across for you to check out below.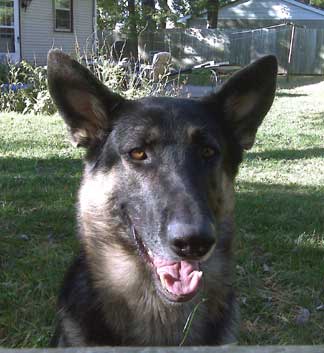 German Shepherd Training Courses
Below I'll list some of the best dog training guides, videos and audios I have found for you. Everyone learns in different ways so I'll try and list training guides in various ways - if you learn by watching, reading or hearing, I'll try to cover all of that here too. I will list only the best courses below to help you in the event you are looking for more German Shepherd Training Articles or information. So, here we go ...
Here are Some Really Great Dog Training Ebook Courses
And here are some great dog training shows on DVD if you like to watch actual dog training in action.
GSD Training Articles
House Training a Dog
AKC Canine Good Citizen Test Defined
Dog Exercise
Dog Communication
A Dogs Nose
How do you hire a dog walker?
Teaching your dog to wait
Proper Dog Feeding Training
Training your dog to stand
Training your dog to come
GSD Dog Sports
Fun and Games with your GSD
Car Travel Training With Your GSD
Backpacks and Training for your German Shepherd
Basic Training Principles of Obedience (or any) Training
The Role of Obedience Training
Herding and the GSD
Obedience Exercise Requirements
Conformation Dog Shows and the GSD
Beginning GSD Agility
Schutzhund Training and the GSD
Train Your Dog in 15 Minutes a Day
Boredom in dogs - managing a GSD's free time
Approaches to Teaching Dog Tricks
Creative Dog Exercise Methods, part 1
Creative Dog Exercise, part 2
Nipping and Play Biting
Noise Phobias
Crate Training A GSD Puppy
15 Minutes A Day
Find The Object
Jumping German Shepherds
Handling Dog Aggression
Crate Training A Puppy

Return from German Shepherd Training Articles to German Shepherd Health Articles


"I took my dog for a walk... all the way from New York to Florida... I said to him "There now you're done." - Steven Wright