Train Your Dog in Fifteen Minutes a Day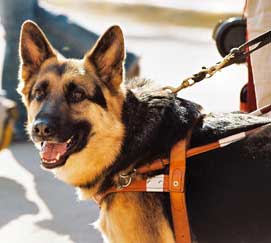 Can You Train Your Dog in Fifteen Minutes a Day?
The best way to train your GSD if you ask me, is to do it in small training sessions that often last for no more than 15 minutes or so each.
And why is this you might ask. Well, just like kids or anyone else, if you ask your German Shepherd to do the same boring thing over and over and for long periods of time, do you think they'll enjoy it?
And just how much of it do you think they'll retain?

Why not make it a game and have fun?

If you try this approach instead you might just be surprised by how much your German Shepherd actually retains of the previous training sessions. And I'll bet your dog might actually even look forward to your dog training sessions! Now there's a thought.

So here are a few ideas you may want to try with your own GSD the next time you want to practice your dog training skills:
1. Mix up your dog training exercises from session to session. One time work on sit and come - the next time practice down and stay.
2. Teach new commands for short periods of time. Don't keep going over the same thing over and over. Practice it more at the next session.
3. Don't wear the dog out and bore the GSD with repetitive training. Try different things from time to time.
4. Allow the dog a chance to make mistakes - remember, they are learning and no one is perfect 100% of the time.
5. Only actively train the dog for about 15 to 20 minutes at a time. You can have more than one training session in a day but just keep them short.
6. Have fun with your dog. Chances are if the training isn't fun to you, then the dog isn't having fun either and wasn't that the whole reason of getting your GSD in the first place - to have a fun companion?


Return from Train Your Dog to GSD Agility

"One reason a dog is such a lovable creature is his tail wags instead of his tongue." - Unknown
Sign up for promotions, news, discounts, and the chance to win prizes for you and your German Shepherd