Dog Shows and the German Shepherd Dog
What are dog shows anyway? The main thought or reasoning behind them (AKA: conformation events) in the first place is to evaluate animals for future breeding stock.
There are many resources on learning about showing dogs in general, and German Shepherds in particular in this case. Many publications that can be found are free, many tips can be found online, and there are many professional handlers that you can ask questions of.
The size of these events ranges from large all-breed shows, with thousands of dogs from many different breeds entered, to small local specialty club shows, featuring one specific breed. In all conformation events the dog's conformation (overall appearance and structure) and an indication of the dog's ability to produce quality puppies is judged.
It goes without saying that any exhibitor should be familiar with all dog show rules before entering a dog show. Dogs compete at conformation shows for points toward obtaining their championship title.
---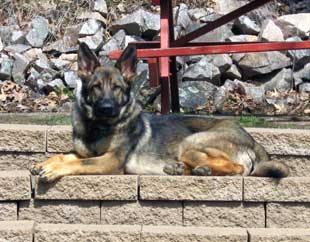 Spayed or neutered dogs are not eligible to compete in conformation classes at a show because the main purpose of the show is to evaluate all breeding stock.
Showing dogs is a great dog sport and also a fine art, where the thrill of competition is combined with the joy of seeing beautiful dogs finely groomed, meticulously trained and then presented at the height of their athletic ability. Conformation dog shows are only one of many kinds of dog events in which purebred dogs can compete.
In addition to the the regular conformation shows (some compare these to human beauty contests) are other events such as obedience trials, Canine Good Citizen tests, field trials, agility trials, lure coursing, rally, hunting tests, herding trials, tracking tests, coonhound and earthdog events.
This web page will deal specifically with:
Conformation Dog Shows, specifically the AKC model
In order to be eligible to compete in a dog show, at a minimum your German Shepherd must be:
• individually registered with the American Kennel Club or the parent Kennel Club in which it is participating (such as the UKC or CKC)
• at least 6 months of age or older
• a breed for which classes are offered at a show
• able to meet any eligibility requirements in the written standard for its breed
But it is also important to:
• be sure your dog is current on all inoculations
• make sure your dog is registered with the AKC
• learn the proper techniques for grooming and for presenting your dog
• attend some dog shows to observe your breed being judged
• ask your breeder questions
• attend handling classes with your dog

---
Overall, conformation dog shows can be further broken down into 3 separate category types:
1) All-breed shows offer competition for over 150 different breeds and varieties of dogs recognized by the parent kennel club. All-breed shows are the type often shown on television and are open to all breeds further broken down into groups and eventually ending in a "Best of Show" winner such as at Westminster or at Crufts.
2) Specialty shows are different in that they are restricted only to dogs of a particular breed or to varieties of one breed. For example, the German Shepherd Dog Club of America Specialty is for German Shepherd Dogs only and other dog breeds may not participate in that particular specialty event.
3) Group shows are limited to dogs belonging to one of the seven groups such as Herding or Toy. For example, the Atlantic Herding Group show features only breeds belonging to the Herding group.

Judges examine all competing dogs and give awards based on how closely each dog compares to the judge's mental image of the "perfect" dog described in that specific breed's official standard.
The official breed standard further describes the characteristics that allow the breed to perform the function for which it was bred as well as specifications pertaining to structure, temperament and movement. The dog most closely matching the breed standard in the judges mind is the one that will win.

Concerning picking a winning dog in any confirmation event, the judge is especially looking at the dogs with these factors in mind:

1) type - the stamp of an individual in any particular breed (best described, this is what makes a bulldog a bulldog, a Chihuahua a Chihuahua, a Belgian Malinios a Belgian Malinios, a Poodle a Poodle, etc.)

2) conditioning - the perfect weight the dog is carrying, showing it's health in it's eye and body, beautiful and well kept coat, etc.

3) balance- according to the breed standard, does the dogs head, body, etc fit the body

4) style - where the dog gets to show it's own individual personality in the ring

Expert dog judges examine ("go over") each dog with their hands as well as their eyes to view the teeth, feel the muscles, bones and coat texture and then to mentally compare all of this information to each dog breed's standard. In addition to touching the dogs the judges view each dog in profile and watch each dog gait ("move") about in the ring.
Individual dogs are presented to the judge and exhibited ("handled") by its owner, breeder or perhaps a hired professional dog handler. The role of a handler is to show the dog to it's best ability and to blend seamlessly into the background as though they are not really even there. The dog is the star, the handler, merely their assistant.
At the conformation dog show males and female dogs first compete separately within their respective breeds, in six regular classes.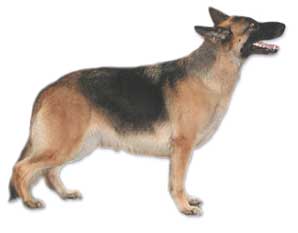 The following classes are offered for dogs,
and are divided by sex:
Puppy - six to twelve months of age, that are not yet titled.
Twelve-To-Eighteen Months - twelve to eighteen months of age, that are not yet titled.
Novice - six months of age and over, which have not, prior to the date of closing of entries, won three first prizes in the Novice Class, a first prize in Bred-by-Exhibitor, American-bred, or Open Classes, nor one or more points toward their championship.
Bred By Exhibitor - exhibited by their owner and breeder, that are not yet titled.
American-Bred - born in the US (from a breeding which took place in the US), that are not yet titled.
Open - For any dog of the breed, at least 6 months of age.
Next, after all the classes mentioned above are judged, all dogs that won a first place prize in a class compete again to see who is the best of the winning dogs. Championship points are only awarded to the best male (Winners Dog) and the best female (Winners Bitch).
The Winners Dog and Winners Bitch then compete with the champions for the Best of Breed award. At the end of the Best of Breed Competition, three awards are usually given:
Best of Breed - the single dog judged as the best in its own breed category.
Best of Winners - the single dog judged as the better of the two between the Winners Dog and Winners Bitch.
Best of Opposite Sex -
the single dog that is the opposite sex to the Best of Breed winner.
Now, on to Best in Show
Dog shows are a process of elimination, with only one single dog being named Best in Show at the end of the dog show. One Best of Breed winner from each individual dog breed will advance to compete in the Group competitions (there are a total of seven groups).
Each AKC-recognized breed falls into one of seven group classifications. From each dog group classification (ex. herding, hound, toy, etc.) only the first-place winner will advance to the Best In Show competition at the end of the dog show. This is the highest award given to any competitor at a dog show.
Ribbons
Each dog that receives an award is given a ribbon by the judge. The color of the ribbon indicates the type of award the dog has won.
---
How Do I Get Started Showing My Dog?
The best place to start is by joining a local kennel club or a breed-specific specialty club.
Showing your German Shepherd can be an exceptional and enjoyable experience for you both to further help you and your dog develop a bond. Dog training classes can be the best hands-on way to practice for the show ring while attending actual dog shows is another great way to learn what judges and other competitors do in the show ring.
---
More Dog Show Terms Defined
Angulation - Angles created by the dogs bones meeting at the joints.
Baiting - Using liver or some other sort of treat to get the dog's attention and to have him look alert.
Bench Show - The dogs are kept on assigned benches when not being shown so that they can be viewed and discussed by all attending spectators.
Exhibitor - Any body who brings a dog to the dog show and shows it in it's appropriate class.
Fancier - Any person who is really interested, and usually active, in some phase of the sport of purebred dogs.
Gait - The way in which a dog moves which is also a good indicator of the dog's structure and overall condition.
Groom - To make the dog's coat neat in appearance.
Handler - Any person who takes a dog into the show ring or who works the dog at any field trial or other dog performance event.
Heel - A basic obedience command to a dog to keep it close to its handler.
Match Show - A type of informal dog show at which no championship points are awarded.
Miscellaneous Class - This is the transitional class for all breeds attempting to advance to full AKC membership.
Pedigree - The written record of a dog's family tree of three or more generations - much like a person's genealogy, or family tree.
Points - Credits earned toward acquiring a championship title.
Soundness - The dog's overall mental and physical well-being.
Stacking - Posing the dog's body to create a pleasing picture for the judge and spectators.


Return from Dog Shows to basic training principles


"Some days you're the dog, some days you're the hydrant." - Unknown
Sign up for promotions, news, discounts, and the chance to win prizes for you and your German Shepherd