Basic Training Principles

Below is a brief article outlining the basic training principles needed to be used in any sort of dog training.
The Most Important Basic Obedience Training Principles for any kind of Dog Training
1. Be consistent!
Use the same command for each exercise. Be specific and do not alternate terms between commands for any exercise (ex. Down, Lie Down, Get Down, Drop, etc.)
Pick only one training term for the particular dog training command you are working with and stick with it!
2. During dog training use simple and short commands that can't be confused with others.
Use a pleasant conversational tone of voice at all times during training.
---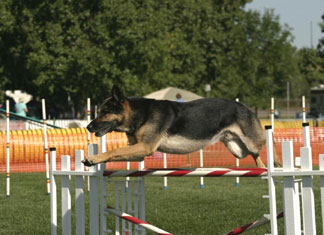 Teach your dog fun new tricks! Learn more here.
3. Never underestimate the power of praise !
Award it liberally and often!
4. Never ever hit your dog
If discipline is necessary, shake it by the scruff much as a bitch would do when reprimanding a rowdy pup.
5. Keep dog training session lengths short.
Note: this is one of the most important basic training rules - do not train so long that the dog becomes bored.
Finish on a good note with the dog performing at his peak level.
6. Always refer to your dog by its name throughout the training session.
Not as "boy", "sweetie", "baby", etc.
7. Train a little each day.
Five minutes is enough for a young puppy.
Training time lengths may increase as the dog matures.
Remember to use all these methods during your dog training session and you will be assured success.
Return from basic training principles to better dog handling tips

"In order to really enjoy a dog, one doesn't merely try to train him to be semi-human. The point of it is to open oneself to the possibility of becoming partly a dog." - Edward Hoagland
Sign up for promotions, news, discounts, and the chance to win prizes for you and your German Shepherd