House Training a Dog
A lot of people talk, worry and obsess over house training a dog. And it is a big deal too - and probably the most basic thing you want your dog to be successful with.
So, let's talk about something that you can control to help your GSD (or any dog for that matter) during the housetraining process. You definitely want to avoid doing anything that makes these lessons any harder than they already are.
So, remember, when you get home, first thing, take your GSD out for a potty walk and a little extra leg stretching time - and then feed him. And if you can, when you are house training a dog don't wait until late in the evening to feed dinner to your puppy or you'll be cleaning up poo and pee in the crate or on the carpet or floor before the next day is here.
Plus, you need to make sure you give them a reasonable amount time for the digestion process to occur so that you can take them "out" before you go to bed.
And one way you can help the potty training process (which is not talked about very often) is by managing your GSD's food intake.
And here are a few house training tips to try if you are attempting house training a dog:
1): A good thing to do is to log all your potty breaks as they happen (afterwards) and all your dogs crate time too and soon you'll notice a pattern in your dog's elimination habits.
And here's a big tip: make sure that the meals you give your German Shepherd as well as the timing of your feedings don't compromise the dogs house training process.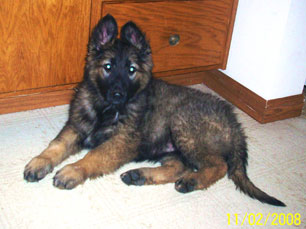 2): Don't give your dog table scraps or snack foods - no matter how much your dog begs for it. Plus, most dogs do not do well on most human foods anyway - and some snack foods can even be dangerous to the dog.
Just because your dog will eat the food scraps you give him, that doesn't mean it's good for him. And what is often the result of this practice? Doggie diarrhea!! Plus, you're teaching your dog to be a picky eater. This is one of the big tips on house training a dog
3): Feed your German Shepherd Dog at the same time every day. If you feed your GSD in the morning before you go to work, make sure that you get your dogs food out for them as soon as you wake up. Don't forget! That way your dog can go ahead and eat and begin digesting its food while you're getting ready to go to work.
And an added benefit of house training a dog in this way will be that the dog will probably be ready to "go potty" before you leave for work. One down (and one less to clean up later).
4): Don't leave dog food out all day long for your German Shepherd. If you let your dog (especially a puppy) eat all day long, plus, it hasn't had a potty break, then you're absolutely asking for an accident to happen. And chances are high that it will!
5): And as far as crate training a puppy goes, make sure there's a small available supply of water in some sort of container (that won't tip over) that your puppy can get to. Also, leave them a few dog cookies or toys to keep them occupied just in case he gets bored or hungry during the day. Just don't leave them a full meal in the crate with them because that would be almost like leaving food out all day long.
Many people don't really think about it but high quality dog foods are made with added nutrients, better ingredients and are often designed for a specific age and weight of your dog - and in some cases they are even breed specific. So, if you're on a budget, find a place to save money other than on your dog food budget.
Get the best dog food that you can afford, I always say. Cheap dog foods are often filled with grains and other filler that the dog can't really digest properly and also can sometimes contain ingredients that cause stomach upset. And as a result of a low quality diet your dog may get fat but not really grow and thrive at a really healthy rate.
So, if your GSD gets diarrhea (even from high quality foods), please talk with your vet. There might be some sort of ingredient in the food that doesn't interact well with your dog's digestive system and the vet can help you figure it out.
Plus, your vet can even give you dog food recommendations to consider for your particular German Shepherd - especially during any house training a dog process - and maybe even a few tips on house training a dog too. It may be that your GSD has a food allergy or something else that the vet can easily diagnose for you.
Of all the things to be concerned with in life, if you can teach your dog to be fool proof when it comes to the whole "potty training" issue, then you can not understand just how wonderful that is, unless you dog is exactly the opposite - and you're constantly having to pick up poo and clean up urine. It's wonderful having a dog that understands the process and can do it every time!
I am absolutely astonished whenever I watch any TV show where their dog is not house trained and the owner acts like it is no big deal and there's pee and poo everywhere! Ewwww! I just don't get it - especially when this is absolutely the first obstacle you must overcome with your dog when you first bring it home. As far as I'm concerned this kind of dog owner is just lazy.
So, as I've often said before, house training a dog is not a dog issue, but it is an owner issue. Why? Well, if the dog has to "go", it will. Case closed. But as an owner you must be the one who shows the dog when and where it is appropriate to "go" and what is and isn't acceptable. End of rant..... breathe....
So, I hope these dog house training tips are helpful to you. Patience, and loads of it, are what you will need to complete this process. There are loads of dog housetraining products on the market and lots of information too. And good luck to each of you in the future when it comes to house training a dog.
Return from House Training a Dog to German Shepherd Health Articles


"Oh, that dog! Ever hear of a German Shepherd that bites its nails? Barks with a lisp? You say, "Attack!" And he has one. All he does is piddle. He's nothing but a fur-covered kidney that barks." -- Phyllis Diller
Sign up for promotions, news, discounts, and the chance to win prizes for you and your German Shepherd