Dog food includes canned, dry and semi-moist foods.
Do you need dog food? Today, a huge majority of all US households have at least one pet cat or dog. In the year 2004 alone, there were over 60 million pet dogs. And one things for sure - they all need food.
Pet foods have expanded to include many types - canned, dry and semi-moist foods. And feeding German Shepherds tender little digestive systems needs to be carefully researched first by each owner.
All these holistic, natural pet foods were designed to meet a wide variety of nutritional needs and all have one thing in common - decades of research, development and effort to make the best dog feed possible.
And it is possible to shop for hundreds of different foods from many different retailers both online and at actual brick and mortar stores - providing an effortless pet food shopping experience.
We believe the company below provides pet professionals and dog owners with the highest quality pet supplies possible and the widest variety that we've seen (online).
We also understand that many pet professionals and owners have tight budgets. The company below also offers the widest variety of natural pet foods at rock bottom prices to ensure the best value that you'll find anywhere.

---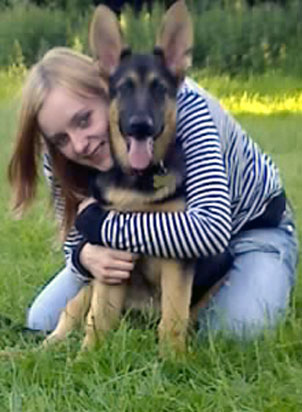 Dog Food Recipes: We have many recipes for your dogs that we will share with you right now. Feel free to check them out here and see what we have to offer - best of all, they're all free - take as many as you want!
German Shepherd Specific Foods
Return from Premium Dog Food to GSD calendars

"They [dogs] never talk about themselves but listen to you while you talk about yourself, and keep up an appearance of being interested in the conversation." - Jerome K. Jerome
Sign up for promotions, news, discounts, and the chance to win prizes for you and your German Shepherd