AKC Obedience Requirements and the German Shepherd
Obedience is just one of many dog competitions that the AKC sponsors throughout the United States and abroad and one in which the German Shepherd competes and excels. At these competitions, dogs are graded purely on their performance of a set number of exercises within each class.
Conformation has no bearing on this event, as even spayed and neutered dogs may participate.
Below find a complete listing of exercises included for each Obedience class and title.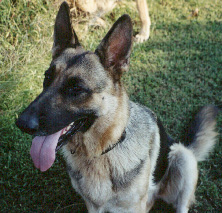 Novice (CD)
1) Heel on leash and figure 8 - Includes sitting at halt, speed changes and about turns.
2) Heel off leash and figure 8 - Same as #1, but done off leash.
3) Recall - Come when called from sit/stay position 35' away.
4) Stand for examination - Done off leash with handler 6' away.
5) Long sit - Done off leash with a group of dogs for at least 1 minute.
6) Long down - Done off leash with a group of dogs for at least 3 minutes.
---
Open (CDX)
1) Drop on recall - Dog lies down on command while in motion.
2) Heel free and figure 8 - Same as in Novice level.
3) Broad jump - The length of the jump is double that of the high jump for the dog.
4) Retrieve on flat - Dog retrieves a dumb bell.
5) Retrieve over high jump - Jump length is 1 1/4 times the dog's height at the shoulder.
6) Long sit - Must be completed for a 3 minute period of time with handler out of sight.
7) Long down - Must be completed for a 5 minute period of time with handler out of sight.
---
Utility (UD)
1) Directed Jumping - Dog moves away from handler, sits, and jumps as directed.
2) Directed retrieve - Dog retrieves on of 3 different gloves as directed.
3) Signal exercise - Commands such as heel, stay, stand, sit, down and come are done with hand signals only.
4) and 5) Scent discrimination - Dog finds article with handlers scent on it among many other like articles.
6) Moving stand and exam - Dog stands in place while handler keeps moving.
---
Basic Principles of Obedience (or any) Training
1. Be consistent! Use the same command for each exercise - be specific and do not alternate terms between commands for any exercise (ex. Down, Lie Down, Get Down, Drop, etc.)
Pick only one command name and stick with it!
2. During this kind of training use short commands that can't be confused with others. Use a pleasant conversational tone of voice at all times.
3. Never underestimate the power of praise
- award it liberally and often! Do not hit your dog, but if discipline is necessary, shake it by the scruff much as a bitch would do when reprimanding her pups.
4. Keep session lengths short. Do not train so long that the dog becomes bored. Finish with the dog performing at his peak level.
5. Always refer to your dog by name throughout training- not as "boy:", "sweetie", etc.
6. Train a little each day. Five minutes is enough for a young puppy. Obedience training times may increase as the dog matures.
Return from Obedience Exercise to Epilepsy in GSD's


"A dog is not almost-human, and I know of no greater insult to the canine race than to describe it as such." - John Holmes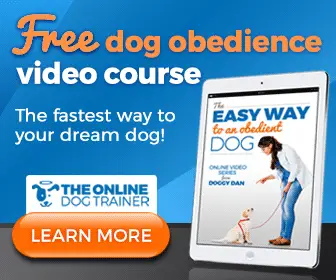 Sign up for promotions, news, discounts, and the chance to win prizes for you and your German Shepherd