Please Share Your German Shepherd
Puppy Stories With Us
This page includes many German Shepherd puppy stories sent in by readers (adult German Shepherd stories are welcome here too, BTW). If you have ever had the opportunity to be owned by a GSD then you probably do have a few German Shepherd puppy Stories all your own.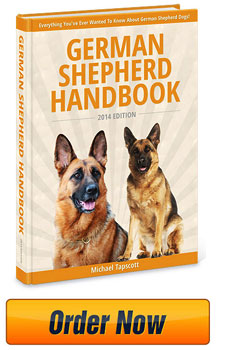 Here is your chance to share them with us if you'd like and to read those GSD stories submitted to us by others.
These truly wonderful, incredibly smart and beautiful creatures are so full of personality that each and every one can easily fill your day with stories and adventures for some time to come.
So, this is your chance to share a few of your stories with other German shepherd owners and those who haven't had the opportunity to be loved by a GSD.
Below you'll find several reader submitted stories about their own experiences with their German Shepherd puppies and dogs. I hope you enjoy them all - and if you've got a story of your own to share, please send it in via our contact page.
---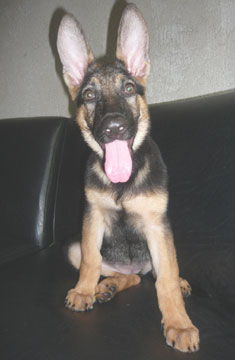 Have A Great Story About
Your German Shepherd Puppy?
Do you have a great story about your German Shepherd puppy? A funny thing it did when you first brought it home. What it does when it sleeps. How it likes to play. It's favorite game with it's favorite person. Housebreaking memories. Puppy class training stories. Please share them with us!
What Other Visitors Have Said About Your Page
Click below to see contributions from other visitors to this page...

See a German Shepherd puppy in action
(The cat started it)

SO, Dakota not only knows how to open all of the doors in our house (and out of the house) but she ALSO knows how to climb a ...

I have a great little story I wish to share. My mother and her family from the mid sixties up until late eightys used to breed GSDs for police and for the dedicated owner out of the ...

How our German Shepherd puppy "picked" her own name 

Several years ago and a few litters back, we had a litter of German Shepherd puppies born on Thanksgiving Day night. Weeks later the puppies started to ...

I have a sweet little 3 month old GSD Puppy named Dallas and he scared the be geezers out of me! Last night he began sniffing all around the living room.....

Cute but psycho-my puppy jazmine 

jazmine (who just turned 3 months yesterday) is a very strange little puppy. she won't let you sweep,mop,vaccum, shovel, or clean in any way without going ...

I will never forget the morning I awoke to hear commotion from downstairs, I just knew TKY was up to no good. I ran downstairs to see my 15mth old...

Return from German Shepherd Puppy Stories to Puppy Proofing


"There is no psychiatrist in the world like a puppy licking your face." -- Ben Williams