My First German Shepherd Puppy, Sophia
by Elizabeth O.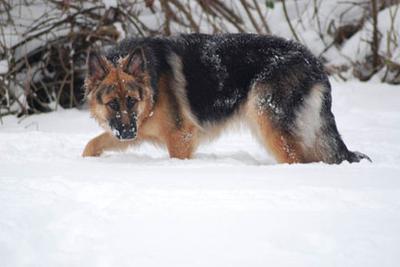 The is my Fraulein Sophia Von Peet. She is 10 months in this picture. She is very "alpha" but a sweet girl, independent but loveable and very mouthy! :D


She is my first GSD ever and she is my ginny-pig and tolerating that well ;)
Her favorite things to do are play tug, prowl her yard and clear the deer. She plays well with her furry and human family.
She keeps us alert to ANY noise she does not like but will welcome people with enthusiasm. She's cautious of other unfamiliar dogs…her weakness. I love her to pieces!
Elizabeth O.
Total German Shepherd
:
Hello Elizabeth,
Thanks so much for sending in that beautiful picture of you gorgeous German Shepherd Dog, Sophia. That is a great shot for sure! My GSD Rodie loves the snow too but we don't see a lot of it where I live at. :)
She will make a wonderful companion for you for many years to come - so good luck with her and keep sending in the photos. We always love seeing all our readers German Shepherd photos and hearing all about your own GSD stories!