Our Soccer Ball Lovin' German Shepherd, Rocky Bear
by Alex H.
(Salisbury, Maryland)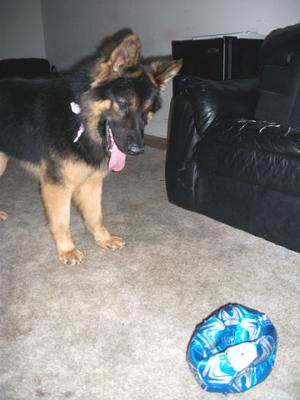 Rocky or Rocky Bear as he has affectionately been dubbed is an 18 month old male long coated German Shepherd. I adopted him right after Christmas.
He's been enjoying his new active lifestyle as we hit the town every morning for an hour run. He also enjoys playing fetch and destroying soccer balls in his free time (as you can see from the picture).
He's extremely playful with other dogs and people, but has
taken his obedience training seriously and keeps a watchful eye on the house when I'm out.
Love the website! Cheers,