Our GSD Puppy Fred is Such a Joy
by Karen Denbok
(Canada)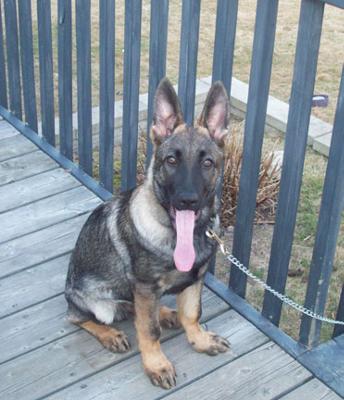 Hi there,


Where do I start ..... our new boy Fred is a wonderful pup. In this picture he is 3.5 months and now just over 4 months. He is always sticking his tongue out at me but I just love him.
We got Fred in January from a rescue centre in Niagara area in Canada. He was 8 weeks and only 4.5 pounds. I was shocked he was so small and thought maybe we had a miniture or dwarf German Shepherd. His mother and father (registered German Shepherds) were surrender to the rescue centre and the pups were born at the centre. Fred's mother was not very healthy and the pups had to be weaned at 4 weeks.
When we adopted Fred we had a tuff time finding the right food for him but finally found one that would not go right through him. He is so smart that within the first week we had him he was housebroken, could sit on command, and could fetch on command however he didn't always bring it back.
Fred is catching up. At 4.5 months he weights 38 pounds and looking wonderful. He knows most of our commands and not chewing as much. He goes crazy over ice cubes, water and the doggie park which is on the river. He is such a joy to have and a great addition to our family..
Thank You
Karen