My 9 months old German Shepherd Ryuu
by Jessica Takehara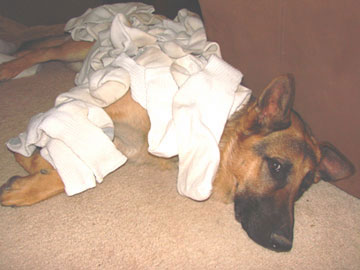 Hi there, Ryuu was about 9 months old when my husband & I bet on how long he would lay there and how many socks he would let me cover him with.
He laid there as I carefully placed every sock!
He stayed (without a command) until I picked up every sock; almost 10 minutes.
Then I got a big slobbery doggie kiss for my troubles. =)
He is the best dog ever. German Shepherds rock!! Thanks, Jessica
Join in and write your own page! It's easy to do. How? Simply click here to return to GSD pup story.
Sign up for promotions, news, discounts, and the chance to win prizes for you and your German Shepherd