My German Shepherd World Cup Fan
by Leroy A. Sylk
(BANGKOK)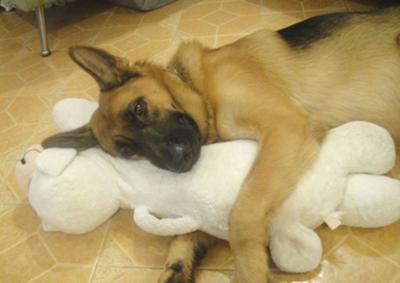 Hi There, My name is Leroy A. Sylk. I normally follow you on Twitter and sometimes add comments to the photos and stories on your website.
With your invitation to send in photos for the winner of the month, I'm sending you this photo of my GSD Matryx. Matryx is one-and-a-half years old and quite naughty but overall obedient!
He loves to watch TV and play with other dogs. Yes, he's crazy on the ball! He's also very protective of my wife and myself, especially when we leave the city and take a short holiday.
Being a German Shepherd, he of course supported Germany in the World Cup football! I say this because the photo i'm submitting of him shows him AFTER the game in which Germany lost to Spain on July 7. (There are 2 more matches to go with the final being played on Sunday.)
So this is the caption for the photo: "Oh, well, with Germany out, the World Cup can go to hell!"
(I do have another photo of Matryx, football in mouth watching a soccer match on TV, and i can send this in if you like...)