My Black and Tan German Shepherd Female, Lucy
by Jane M
(USA)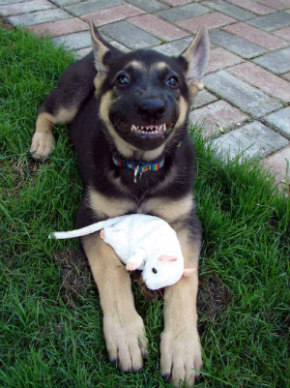 love that smile
This is my black and tan German Shepherd female dog Lucy when she was just a puppy. She is now 6 years old and is the love of our life along with her GSD sisters Chloe who is a black GSD age 6 years and Kitty who is a white GSD and around 3 years old, Kitty is adopted so we are not sure of her age.


Lucy has had some problems in her life, she has had surgery on both of her knees they had to have plates put in them because she tore ACL on both knees. She had this done at Iowa State University and is doing well now. It has been one year since last surgery.
Best dogs ever! Each one so different in personality.
Jane M
Total German Shepherd
:
Hey Lucy,
Thank you so much for sharing your wonderful little Lucy with us. And I definitely love that photo that you have sent us too - that is one of the best smiles I believe I have ever seen.
German Shepherd puppies can be handfuls and I'll bet judging from that picture that your little Lucy is definitely one of a kind! And she looks to be a little comedian too, ha ha!! A furry little Lucille Ball I'll bet!
Anyway, thanks so much for sending in the story and German Shepherd puppy picture - we loved seeing her in person. She is absolutely adorable.