Our German Shepherd, Lovely Lisa
by Ghoo Ungerer
(Port Elizabeth South Africa)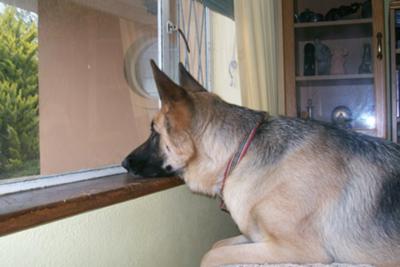 Lisa on guard duty
Lisa was a gift for my husband when he turned 50. She is another member of our family and loves watching the world go by outside the window.
She will bark at cats, other dogs and any frog, lizard or bird that dares touch down in our yard.
She loves people except when strangers come to our house then she goes on guard duty. She is my husbands girl and they love each other very much.
She greets us each morning with a kiss, she goes from room to room, bed to bed greeting us all!