Diesel, My German Shepherd Puppy
by Lois Simpson
(Canada)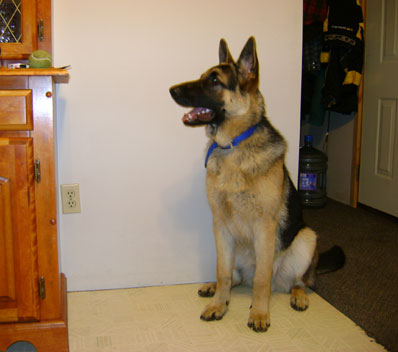 When I brought this pup home in Dec 2011 he fit in my hands. He has grown into a massive German shepherd.


He is clumsy and like a big child in his terrible twos,,, always getting into mischief.. Diesel 7 months old.
Sincerely,
Lois Simpson
Total German Shepherd
:
Hi Lois,
Thank you so much for taking the time to share the story of your wonderful experiences with your own German Shepherd puppy with us all here at Total German Shepherd. I know I'm not the only one who enjoys reading them all.
Your Diesel is such a handsome boy! And sounds like the typical male german shepherd puppy from your description - clumsy, mischevious, and a little goofy too. That has always been my experiences with growing boys too - GSD pups are so much fun to grow up with!
Just wait until he reaches that more mellow, adult stage. All the time and work you've put into Diesel up until that point will definitely have been worth it. He'll fill out physically, and mentally, he will finally catch up with his outward appearances too.
Continued success with your german shepherd puppy, Diesel. He's simply a gorgeous boy!