Ruger the Magnum Pup is really big now!!
by Ruger's Mom
(Michigan, USA)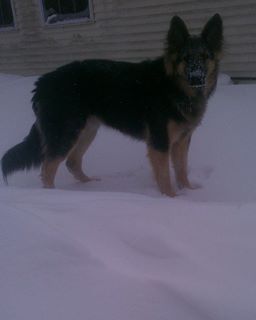 My Ruger
Here is the latest pic of Ruger in the snow, seems it is always snowing in Michigan....We are expecting about 6 more inches tomorrow.


Ruger earned his Canine Good Citizen last fall, he is still practicing all we learned in obedience, rally beginners class.
He also started beginning tracking, he really loved that!! I had a hard time keeping up with him, he would go forever!
In the snow I have to be careful of the snow packing between his toes, even trimming the fur has not helped all that much, just the texture of his fur holds the snow there. He still loves finding the treat balls in the snow, he is too good at it.