4 month old, Liver German Shepherd Puppy, Dost
by Zeynep Bilgi Bulus
(TURKEY)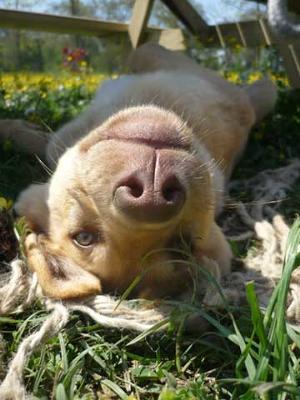 Here there is a photo of Dost from back when he was 4 month old this year in May.
He is a liver german shepherd (mix? possibly - holding no certificate). His parents are the guard dogs of one of the recreational facilities of the Municipality, here in Bafra, a town in Central Black Sea region of Turkey. He lives in our farm since he is 10 weeks old.
Dost - meaning Buddy in Turkish - is very a friendly and playful puppy. His best friend is our cat Baldan (Bal-done).
Hope you will adore him, as much as we do.
All the best...
Zeynep Bilgi Bulus