My German Shepherd Puppy, Rocky (updated)
by Srikar
(Bangalore, India)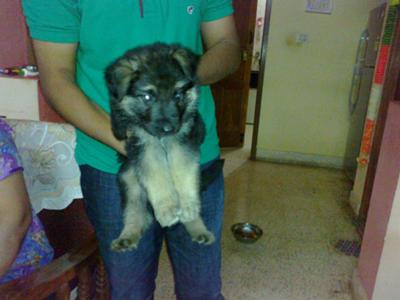 when we first brought him home! 42 days old
Rocky - my 6 and a half month old GSD!
Hi friends! Rocky is my first GSD whom i love a lot! He loves going on walks, fetching things, and many more to mention. He is one super dog!
He digests almost anything and everything-once ate my sock, almost half of my ipod headphones also.
He barks when someone knocks on the door! But the problem is when they come and pat him, he becomes very friendly. Will he protect me when he grows into an adult?
And whenever we go on walks, he whines when he sees the other older dogs. Why is that?
okay, and here are some of his pics. Enjoy!
bye friends..