My german shepherd puppy sleeps with her head laying on mine
by Denise Morgan
(Harvest, AL)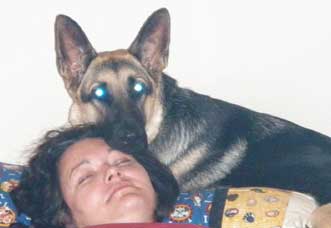 I have attached pictures of my gorgeous girl, Jagger Lola.
she will be a year old on July 1st. she is the smartest dog I have ever had and she is also the most loyal and loving!
I have two other small dogs and she is so great with them! she gets ooohhhs and ahhhs wherever we go and seems to know that people are admiring her.
She is just wonderful and I don't have the words to express how much I love her and I am so glad that she chose me!
her favorite thing is chasing anything that flies and fetching her ball or stick in the backyard or at the river!
She sleeps on my pillow with her head laying on mine! now that is Love!!!
Denise Morgan