New lease of life!
by Angie
(UK)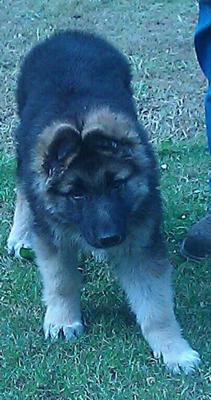 At 9 weeks old, the day we brought her home
After losing my old shar pei 9 months ago I swore 'never again'......I couldn't even contemplate 'replacing' him with another dog.


I lost my father a few weeks ago under tragic circumstances and I'd become very depressed. My OH decided that I needed a focus, something to care about, to nurture.
We wanted to rehome a dog rather than buy straight from a breeder and after searching through hundreds dogs to find the right one Molly's picture came up and I screamed "That's the one!! That's her! I've found her!"
She is everything I could have hoped for and more. I need her as much as she needs me - a match made in heaven.
Total German Shepherd
:
Angie, Thank you so much for sharing your great story about rescuing your new German Shepherd puppy Molly. What a wonderful story but I'm so sorry about hearing about all the circumstances that lead up to the adoption. I hope you're doing much better right now. And I'm sure Molly will help you see to it as much as she can. There's nothing like a new German Shepherd puppy to help you pick up your spirits.
And I'd like to take the time to say thanks to all our visitors for reading your story along with us. And thanks again for visiting us here at Total German Shepherd and reading all about Angie's new GSD puppy, Molly.