My White German Shepherd Seguin - He's Become the Dog of My Dreams
by Lisa W
(Maine)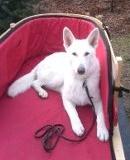 Attached please find a picture of Seguin - Seguin = "SAY-gun" (Seguin Vom Zarya), a dog I rescued five months ago. I never in a million years thought I'd have a White German Shepherd, but when I learned about this unsocialized, untrained, fearful five month old puppy from a fellow trainer, I knew that he needed help and fast.


I paid to have him shipped to me from TX to ME, and when he arrived, I sincerely wondered what on earth I'd done. He was more jumpy, barky, nippy, nervous and hyper than I had imagined. In reviewing his paperwork, I realized he was closely inbred from what I believe is genetically weak stock.
He was so fearful, that in order to socialize him in an unfamiliar place, I had to drive around with the windows open so he could experience it first from the safety of the car. He was afraid of anything new - people, places and things.
With positive reinforcement and daily socialization, exercise and training, he has become an AKC S.T.A.R. Puppy, and graduated from a Basic Obedience Class with flying colors. He participated in a "Holiday Pooch Parade" and walked nicely at heel ignoring cheering, lots of people and dogs in costume, and an occasional dog scuffle right behind him.
He'll soon become an AKC Canine Good Citizen, and his future includes competing in K9 Nosework, Agility, Rally-O, AKC Obedience, and getting his BH. It's been a long and challenging road, but I never forgot what someone told me when I was wondering whether I could influence his behavior enough to make him the wonderful, loving family dog he's become.
I was feeling overwhelmed, and a good friend said, "What he really needs is T.O.T." When I asked what that was, she said, "Tincture of Time." She was right. In five months, he's become the dog of my dreams.
Lisa W