German Shepherd Bailey Loves Getting into Mischief
by Emily challinor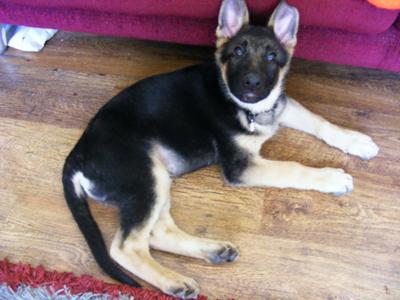 hi
my name is Bailey
im a 16 1/2 week old puppy
im a male german shepard pedigree
i love being outside, playing in the grass !
when hes not playing with the kids hes getting into mischief . he loves to run circles around his brother and sister milo and fizz (the cats )
we got him from bolton !! hes the road clown !!!!!
i love my mum kelly my dad mick my younger brother michael ( 12 days old ) and my older brother elliott (9 yrs old ) and my big sis emily (12 yrs )
i love long walks and im always being boysterous !! especially with emily !!!
i dont like the hose pipe (lol) who does !!!!
i have my two favorite toys my mouse ( skweaky toy ) and my crisp packet ( from poundland also skweaky )
i love to annoy my mum by digging up her plants !!!!! i also love the beach !!! who doesn`t
i love my FOOD !!!!!!!!!!!!!!!!