Here's 10-week-old German Shepherd Karlo
by Daniel Brasse
(CA)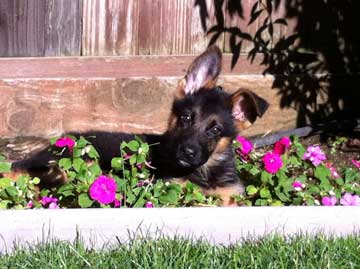 This is Karlo -- 10-week-old German Shepherd Karlo
he is a GSD male and was 10-week-old when I took this picture.
-Daniel
Total German Shepherd
:
Hi Daniel, Hey there. It is really good to hear from you about your new German Shepherd puppy Karlo. What a cutie - he is simply adorable!
Thanks so much to you for taking the time to come here and sharing your German Shepherd puppy story with us each of us today. Love the picture - he looks like he is just thinking about what he can get into next.
And if he is anything like most little German Shepherd puppies about that age, I'll bet he is a little stinker too. All boy, all the time, huh?