My German Shepherd puppy Lexie
by Katie
(UK)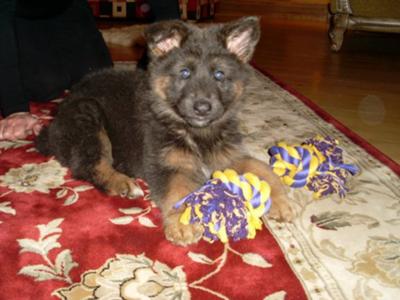 Hi total german shepherd.com!
I absolutely love my GSD Lexie, she is soon to be 6 months old this 25th of Feb! She is so clever with such a loving temperment!! I would just love you to award her with dog of the month =D
We bought her from a breeder and is full pedigree; she is classed as 'blue' but in my opinion i dont really think she looks very much like a blue GSD??
I think she has a bi coloured blanket coat?! Any feedback on your opinion would be great!
Lexie is my first GSD and i am obsessed with researching and finding out as much as i can about the breed... We are also keen to buy another GSD pretty soon and thinking of getting the classic black and gold saddle back..
The pics show Lexie as a puppy and also pics taken during the thick winter snow that Lexie absolutley loved playing in. She also fell into the river seen in the pics, a puppies keen curiosity lol
I hope you enjoy the pics i have sent!
Hope to hear from you soon!
Katie and Lexie =)