Our brave little GSD girl Xena
by Melissa Harrington
(AZ)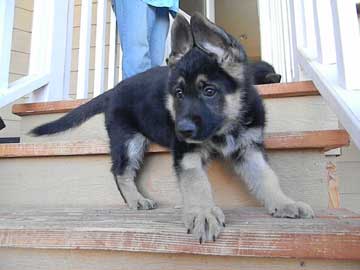 Hello! This is our little girl Xena.
She is the first puppy whelped by our bitch and we are very proud of her!
In this picture, she is 6 weeks old and she is venturing into the outside world for the first time. But, AH! She spots a rabbit and is very curious as to what it is.
The first time she tried to come down the steps she figured, "Why bother!", so she jumped from the top step, (out of 5), and landed on her feet and ran to the gate to see the rabbit!
Melissa, AZ
Total German Shepherd
:
Hey there, Melissa. Hope you and Xena are doing well. It is so good to hear from you all the way over in AZ.
Thanks a lot for taking the time to come here and share the story of your adorable little German Shepherd puppy Xena with all of us today. Love the picture - she looks as though she is ready for her next adventure!
And, by the way, did you name her after the Lucy Lawless action hero Xena? Maybe the Xena: Warrior Princess TV show? Or maybe it is just a coincidence.
But to me it looks like your Xena could easily hold her own against any and all comers and would not back down from any kinds of "mythological beings" either. But I'll hope she doesn't have to worry about those any time soon.