19 Weeks Old, German Shepherd Puppy, Zola
by Tony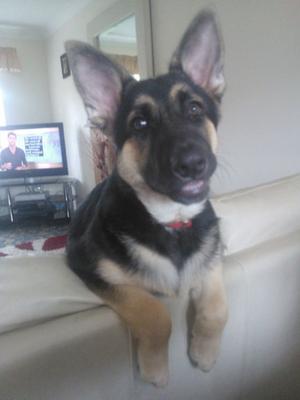 So what do you want to do, huh?
My name is Zola and l'm 19 weeks old, and i'm looked after by tony and Ursula.


I am just having a relaxing time for now but soon I am going to be training really hard so I can be a great dog for my family.
my best friends are human pups Jenson and joshua who I love to play with.
Total German Shepherd
:
Tony, Tony, Tony,
Just look at that picture that you've sent us! Your little Zola is amazing! She looks like such a sweetheart and so full of energy too.
I'll bet you definitely get your exercise with her around. Just looking at that picture made me think I wonder what shes thinking about. Hmmmm? Bones? Balls? Chews? Belly rub? Lunch?!
If she grows into those ears she'll be a pretty big girl too! ;) And I love her markings! Such a pretty girl!
I wish you all the best with her and I hope you have many years of discoveries, expeditions and new findings ahead of you. She definitely looks like she's up to the task.
And with her by your side it will be a great life for you both. German Shepherds are wonderful lifelong companions! Good luck to you both!