Head of the Class!
by Barbara Wooten-Del Toro
(Texas)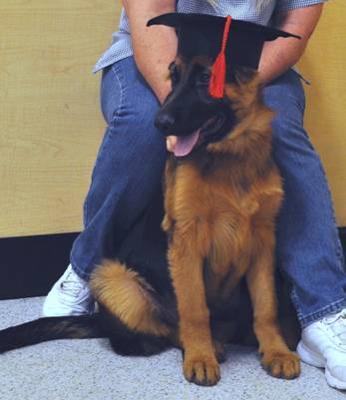 Of Course GSDs Are at the Head of the Class
This is 'Zeus', 5 months old, one of my rescue puppies graduating from 'kindergarten'.
He and his brother 'Thor' are now in 'intermediate' class and are the at the top of the class! Smart AND handsome!
I am so blessed that someone 'threw away' these pups!!
Barbara Wooten-Del Toro
Total German Shepherd
:
Hello Barbara, and thank you so much for sharing your great story about your wonderful little German Shepherd puppy duo, Thor and Zeus. It's so nice for you taking the time to come here and sharing your German Shepherd Dog rescue stories with us all today. And I just love the picture - Zeus is so handsome and looks soooooo happy just hanging out with you at puppy class!
And to all our readers - thanks so much for reading and please come back often to see what else is going on here. Let us know what you think about the above story by leaving some comments below.