Dakota - GSD rescued as a puppy
by MK
(NJ)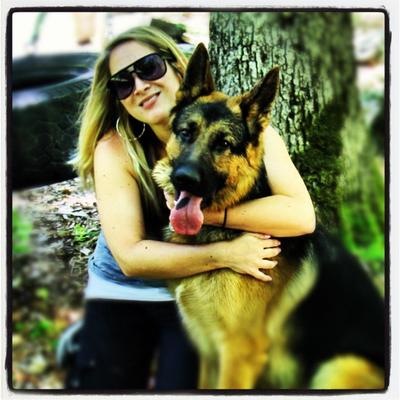 Dakota & Mommy
This is Dakota. He is a year and half now but when I adopted him he was 6 weeks old and weighed 11 lbs. They told me they were not sure what he was mixed with but his mother was a GSD. They estimated he would be about 70lbs and not very tall.


Fast forward to now. He is weighing in at 105 and is 27inches at his back! He is also pure GSD.
He has changed my life tremedously and I am so thankful we found each other!!!!
Total German Shepherd
:
Hey MK,
Congratulations to you. First of all, thanks to you for taking the time to rescue a puppy who needed a home. I wish more people did this! It could make such a difference in so many dogs and peoples lives.
Dakota is so handsome. Good to you also for keeping him in such tip top shape.
I can tell you this, he should keep growing for a year or a year and half or so to go. Maybe not in height but he will fill out a bit and put on a little more weight and get his adult shape.
If you ever need any help please feel free to refer to the site here since I have loads of info on health, training and all about the German Shepherd Dog breed in general. I think it will be a big help to you.
Continued success to you with Dakota. He is a handsome, handsome example of a German Shepherd Dog. And should make you a wonderful companion for many years to come. GSDs rule!