Meet Red Sable GSD Puppy, Titan
by Steve Lang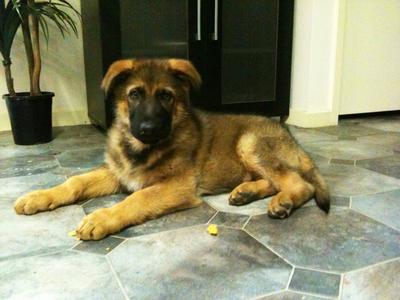 I see youuuuuuuuu!
Hi


Please find the attached photo for consideration in your GSD Of The Month Contest.
He is our new red sable puppy 'Titan', only 13wks old in this pic (now 15wks) a real handful but
incredibly smart, attentive and already learnt a basic range of commands and fun 'tricks' !!
Our company has bought him to raise as a security guard dog for our cash-processing premises, he is due to enter formal Obedience training very soon and once 1yr old will be shipped to NSW for extensive Guard and Protection courses.
So he's in for an interesting, varied and much-loved life, already pampered by all the staff here :)
Hope you like the pic..
Cheers and thanks for a great site, entertaining enlightening and very resourceful.
Steve Lang
Total German Shepherd
:
What a gorgeous sable german shepherd puppy! Good luck with all the training - and the pampering too. He'll prove you to be a great worker in the future too I'm sure.
Please keep us up on how he's doing in his guard dog studies. As a incredibly intelligent breed, your German Shepherd puppy will surely mature into one wonderful dog and a happy companion and employee too I'm sure. Good luck!