My New German Shepherd Puppy, Texas Ranger
by Angela Van Matre
(Lewisville, Texas)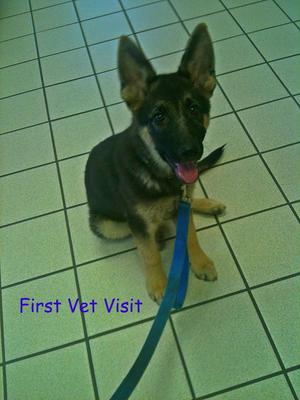 Texas Ranger, Isn't He a Cutie?!
Hi,


This is my Pup Ranger, I got him from a shelter in October. He weighed 12 pounds then, he turned 4 months old today and weighs 31 pounds already.
He is very smart, a very quick learner, I also have 3 Siberian Huskies and he will fetch already where as they only look at it, lol.
Not sure how big he will get, but he is huge already. Thanks
Total German Shepherd
:
Hey Angela,
Thanks so much for sharing your handsome Rangers photo and story. I am so happy that you got him - and congratulations for taking him in.
Don't be surprised when he gets bigger than your huskies but do your best to keep him fit and not too heavy. That will really help all his joints especially as he matures.
I do imagine he and your huskies have a ball together. Ranger will happily do things for you so take advantage of that as best you can - teach him lots of tricks and work that intelligent little brain all that you can and you'll be surprised at just what he can do.
Good luck with all your puppies in the future but I for one thank you for taking a chance and adopting a shelter puppy that needed some help. I wish more people would do that.
Keep in mind that German Shepherds are extremely intelligent and want nothing more than to make you happy and you will be amazed at the difference in the temperaments of your GSD Ranger as opposed to your huskies. And also what Ranger will want to do for you.
Continued success in the future and have lots of fun with them all!