Our Border Collie Picked Our German Shepherd Puppy
by Darrel & Carla
(Fredericktown,Ohio)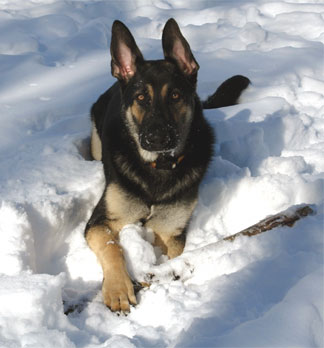 ... isn't he adorable!!
Introducing Mike the GSD, He is now 8 months old and 90 lbs of mischievous boy.
His registered name is Hexen Konig Michael D. Wasmer.D is for Diablo his nickname when he had his baby teeth and loved ankles.Michael for our deceased cat who liked to hide under my hair just like our puppy does.
He is a joy and a wonderful addition to our Family.When our 18 year old Border Collie choose him as her pick of the litter, we feel she did a great job. Thank you and have a great day,