10 month old, German Shepherd, Rommel
by Jessica Thompson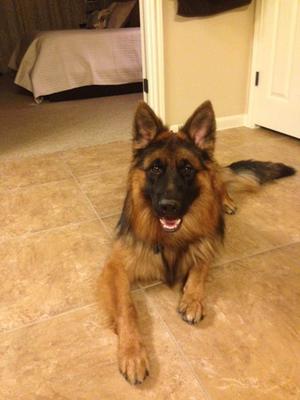 Rommel
Here is a couple of pictures of my 10 month old, Rommel. Every morning he lays here and watches my put on my make-up and blow dry my hair.


I'm pretty sure if he could talk, he'd let me know what I'm doing wrong!
Total German Shepherd
:
Hey Jessica,
Your German Shepherd Rommel is absolutely gorgeous. Thanks for including such great pictures of your German Shepherd Dog.
Yes, I often wonder what my GSDs are thinking as they look at me. But it might be better in some cases that I don't know ;)
German Shepherds are such smart dogs, I'm sure he could put your makeup on for you if you gave him a try ;) Or maybe he'd be better at helping you take it off.
Thanks for sharing him with us either way. Rommel is lovely and I know he is a great pet for you. Please feel free to send in some more pictures or even some more German Shepherd stories about what you and Rommel are up too. We'd love to hear all about them.
Continued success with him. As always, German Shepherds rule!!