Meet My White German Shepherd puppy, Baron
by Bill and Joy
(Winnipeg, MB)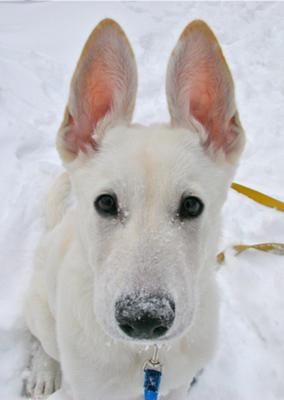 Hi there! I know that White German Shepherds aren't recognized by the AKC, but I don't really mind.
My boy Baron is 4 months old here, playing in the snow. He is now 6 months. He loves to have fun. He loves to
eat bananas and most everything else!
He loves to run, loves to play and is a big tease. When he doesn't want to listen, he tells us. Such a funny boy.
He also is such a cry baby! He is starting
now to play "shy", but over all he is so good natured.
I think he is absolutely beautiful...for a boy!
Thank you for allowing me to share,
Yours truly,
Joy Hughes