How our German Shepherd puppy "picked" her own name
by Gayle
(GA, USA)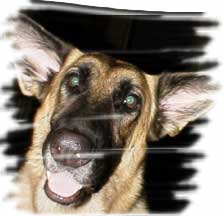 Several years ago and a few litters back, we had a litter of German Shepherd puppies born on Thanksgiving Day night. Weeks later the puppies started to walk and we brought them in one evening to play.


Several of them had already been sold but this one in particular had won my heart a lot earlier when it sucked on my lip one night while holding her and then my ear a few nights later. Needless to say, after that she knew she was a keeper, and had the attitude to prove it with her litter mates.
Anyway, we had been trying to come up with a name for the little stinker for quite some time with no luck. One night we had the whole litter in with us playing with them again when we noticed she had disappeared time after time.
Curious, I did my best to follow her on one of her escapes without her, or her litter mates, knowing what I was up to. And you can guess just how hard that was.
Anyway, the way the room was set up, there was a fireplace in the middle of the room (but on the other side of the wall) than the part of the room we were all in. We hardly ever used the fireplace and it wasn't on at that time but we did keep a short bucket next to the fireplace where we put the ashes we sifted out after each use until we took them out for disposal.
Later we noticed something on the floor that wasn't there earlier - dirt, tracks or something, not quite sure what it was on first sight. Turns out, she was getting in that bucket of ashes by the fireplace and playing around in them.
Don't worry, they were not hot in any way - since we hardly ever used the fireplace it often took weeks before the bucket was ever full enough to empty.
At any rate, that's when it dawned on us what her perfect name should be - Ashe! And her nickname to this day is Ashley the pooch!