Our Pampered German Shepherd Sisters
by The Schuberts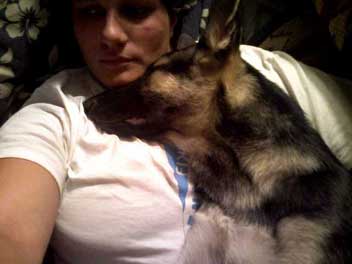 My name is Tiffany and my family of 4 rescued 2 sister GSD's in April of 2010. When we brought them home they each picked one of our daughters, who were 3 and 5 at the time, and took the ride home in their laps of their car seats.


Now the girls are 10 months old and let me tell you, their collars are pretty much the only way we can tell them apart. Ziva and Abby, respectively, have great
personalities to match each of our daughters.
Their ,Ziva and Abbys parents, were both service GSD's with a police department in Jay,Ok and both of the girls show such great qualities of that lineage from the nose to the barking and high energy. Which is great as my husband and I are both in law enforcement. We plan on
at least having the girls trained to be able to take to schools as they love to be around people just still a little rough around the edges. Lol.
I had adopted a male GSD for my husband who had been raised with Shepherds all his life for his birthday in 2009. Our oldest daughter came down with a bout of phenumonia the following February and had to be hospitalized for a week.
Bo, our dogson, was at our farm in the country being looked after by his grandma. We received a phone call
late one evening saying that he was gone, that she had let him out with her Rottie and he just disappeared. I had called all the local law enforcement agencies and dog catchers and even informed our vet since he was microchipped and reported him missing.
All of our neighbors knew Bo and knew that he was our daughters dog that daddy got for his birthday. Like they say GSD's pick their master. 3 months I was surfing on petfinder looking to adopt another GSD and I found
our boy up for adoption and he was just a couple miles from our house.
After talking to the place that was holding him they flat out told me that we would not get him back that he never had his shots and was malnurished and they also said he wasn't ours. Even after I had sent pictures of him taken just a few days before he had went missing. They ended up adopting him out to one of their workers which broke my families hearts.
So now we have our girls and they go everywhere with us. If an emergency comes up they go stay with family indoors. These are very pampered pups. Abby sleeps with Addy, the 3 year old and Ziva sleeps with me since she hasn't figured out how to get on the top bunk with
Hailey.
I would not trade my German Shepherds for anything. They are my other daughters and til I die Bo will always be my son.
Thank you for taking the time to read this. I hope you had a happy holiday and great new year.
The Schuberts
Tiffany,Thomas,Hailey,Addy,Ziva and Abby.
P.S.
First Pic is Abby, second is Both of the girls asleep on the couch and finally is Ziva. They believe I am a couch.