My German Shepherds Adventure With Toilet Paper
by Melissa Griffie
(PA)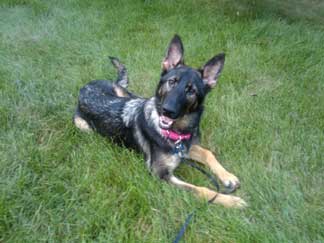 My German Shepherd is 2 1/2 yrs old. Her name is Greta.
One night my husband and I went out, and as usual we left the house in the care of Greta and told her to be a "good girl." When we got back I noticed that a 12 pack of toilet paper rolls was opened and many were missing, all I could think is OH NO she shredded them.
I made my way up the stairs to my bedroom to investigate. Our bedroom has a master bath connected to it, but I had the bedroom door shut. In front of the door there were the toilet paper rolls, stacked neatly into a pyramid shape four on the bottom, then three, two, one.
I knew that it had been my little mischevious Greta because there were teeth marks in the rolls! If anyone has had a similar situation of their German Shepherd organizing or stacking anything, email me at
[email protected]
.
She probably thought, what a lazy mom, can't even put the toilet paper away!