My darling GSD angel, Griffin
by Victoria Dirksen
(Lantzville, BC)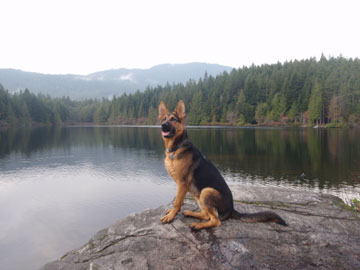 Hello Fellow German Shepherd Lovers! This is a picture of my darling angel, Griffin.


He is 7 months old and the light of my life. The scenery is of beautiful Hart Lake in Ladysmith, BC.
Now that Griffin is getting older I can take him on more challenging hikes, he loves it! He always sticks to my side like glue, I never have to worry about him taking off.
He is loyal, intelligent and extremely well mannered. He is the epitome of a German Shepherd in every respect.
I consider myself extremely blessed to have this magnificent creature as my very best friend.
Yours very truly,
Victoria